It began as a serious case of sibling rivalry during childhood. But if brothers Brendan Smith of Wisconsin and Reilly Smith of Miami end up meeting in the national championship game on April 10, it will be a night of sibling revelry for the natives of Mimico, Ontario.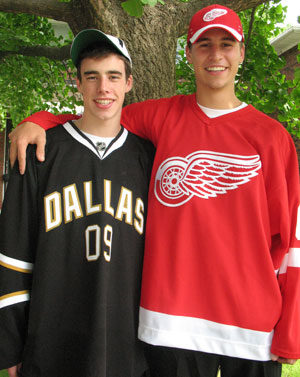 At least both teams wear red and white, so the Smith family clan won't have too difficult a time in packing their suitcases for Detroit.
"It's normal, isn't it?" father Lester Smith said, chuckling over the prospect of seeing two of his sons compete in the Frozen Four. "Doesn't everybody get this?
"It's great; it's amazing. People up here in Toronto thought that was a real good possibility at the beginning of the year because they're both on real good teams. I was telling them that there's no possibility — so many stars have to align for that to happen — but we're so close to that now that you can almost touch it. Amazing."
The Smith brothers are quick to note that they each have a considerable obstacle in front of them before any serious thought about a dream matchup in the championship game can be pondered. "We want that," said Brendan, a junior. "All year, friends and family have been saying, 'Wouldn't it be great if you and your brother could face each other in the finals?' It's in the air; it's a possibility, but we're going to have play our best hockey to get there.
"You can't look past RIT; they're a good squad. Teams like Denver looked past them and got a rude awakening."
Reilly, a freshman, is on the same page with his older brother. "That would be absolutely ridiculous, but you can't take Boston College or RIT lightly because they're both having great seasons right now."
Both collegians have come a long way since their dad put them on skates to take their first strides around the frozen pond behind the house. From those modest beginnings, there were still early signs of the drive and intensity that ultimately led the Smith brothers to athletic renown.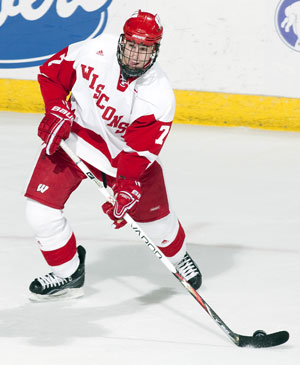 "They have another brother, Rory, who's a professional lacrosse player for the Orlando Titans," Lester Smith said. "We're a big lacrosse and hockey family, and for birthdays they'd end up playing mini-sticks down in the basement.
"It was always interesting. The three of them would be down there for birthday parties, and the other kids would come up one by one with cuts and scrapes and bruises, saying, 'I don't want to play with them anymore.' In the end, the three of them would end up playing by themselves again because they're totally competitive."
Fast forward a decade or so, and Brendan landed in Madison, Wis., where he had the tantalizing freshman experience of not quite making the Frozen Four. "It hasn't really sunk in yet," Brendan said about the imminent trip to Detroit. "When you think about my freshman year and how close we were against North Dakota in overtime [in the 2008 Midwest Regional final in Madison], it's nice to get that redemption."
Meanwhile, Reilly and his dad ended up watching from their living room last April while Miami came oh-so-close to winning its first national championship in Washington, D.C. The RedHawks dominated much of the game, but Boston University tied the game with two last-minute goals before winning in overtime. "We couldn't believe it," Lester said. "They had played the perfect game. When BU scored the first one with the empty net, you're thinking, 'Uh-oh, this is really scary.' After Colby Cohen got the game winner, there was silence in our house for 30 minutes. So that's why I'm so impressed with them this season. They were on a mission to get back to the Frozen Four."
"Our team has talked about it a lot," Reilly said. "The emotions that came out of that game really pushed our team hard because it's so hard to make it back to the Frozen Four. It was a bitter taste in people's mouths last year after that heartbreaking loss. That's given us something to work for every day and to never take anything for granted."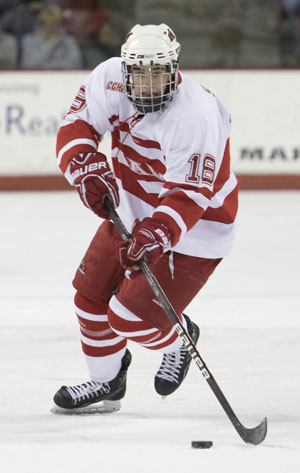 Admitting that he was initially shocked by the speed of the college game, Reilly has settled into more of a supporting role on one of the Miami forward lines. He has eight goals and 20 points in 43 games.
Meanwhile, Brendan has emerged as a national superstar for Wisconsin this season. With 15 goals and 47 points in 40 games, he is tied for 18th nationally in scoring and is the only defenseman among the top 50 point scorers.
"He's had a lot of freedom in his play this year," said Reilly, who managed to catch some of his brother's WCHA games on road trips home this season. "He's been able to use all his resources; he hasn't been told to hold back as he has in the past. I think that and injuries had held him back."
"They really have pretty similar skill sets," Lester said of his boys. "They're both really good skaters and about 6-[foot]-2, though Brendan is a couple of years older and about 20 pounds heavier. Brendan is probably more 'I'm going to do it' and Reilly is more 'I think I can do it' at this stage in their lives."
Brendan certainly has been doing it. He was one of the 10 Hobey Baker Award finalists this season. While looking to be a viable Hobey Hat Trick finalist, Smith ultimately lost out to teammate Blake Geoffrion along with New Hampshire forward Bobby Butler and Maine forward Gustav Nyquist. Still, the fact that his son was named as a finalist certainly wowed Lester.
"This is unbelievable to me," said the proud father. "It's just so impressive that this Canadian kid has this shot at this huge American award. It's so amazing to me that it's just about the hockey — not about where they're from. Just being mentioned in the same group as all those other guys is unbelievable for him. He's been under the limelight since the beginning, and he's enjoyed every minute of it."
Far from basking in it, Brendan avoids thinking about the honor at all. "I'm trying to keep that in the back pocket right now because the task at hand is to win a national championship. I've tried to let that sink in too much because it's more of an individual aspect of somebody's year. After the season's over, maybe I can celebrate being a finalist."
So if it comes down a Miami-Wisconsin final, how is a parent going to root for a winner?
"I've come to the realization that I'm just going to try to sit back and enjoy it," Lester said. "I hope that they both do well and whoever wins, you have to just sit back and be satisfied. Basically, I'm hoping for a 3-3 game, and then the lights go out."
If the matchup materializes, you can bet that college hockey fans won't be kept in the dark about it on April 10.