Western Michigan has hired Jeff Blashill as the fifth head coach in the program's 37-year history.
Blashill, a former assistant coach at Ferris State and Miami, is the head coach and general manager of the Indiana Ice of the USHL.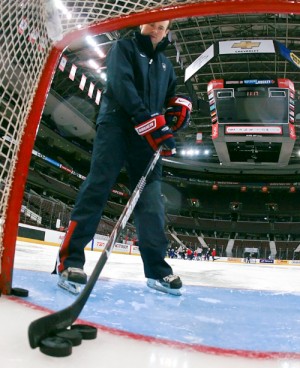 He won't start as the Broncos' coach until the USHL season is over.
"When we set out to find our next head coach, we wanted a candidate with experience as a head coach, one that has had success at multiple levels and someone that has the drive and blueprint to take this program to championship levels with national prominence," Western Michigan athletic director Kathy Beauregard said in a statement. "Coach Blashill embodies each and every one of these qualities."
Blashill was a goaltender for Ferris State from 1994 to 1998 before spending four years as an assistant coach there. He then spent six seasons at Miami.
"I am extremely excited for the opportunity to lead the Western Michigan Bronco Hockey team and build upon the foundation laid by so many Bronco Alums," Blashill said. "I'd like to thank President Dunn, Kathy Beauregard, the athletic staff and those who were a part of this process, for the trust they've placed in me and for allowing me the opportunity and challenge of pursuing, with passion and integrity, championship level ice hockey at Western Michigan. I also owe a great deal of thanks to Indiana Ice owners Paul and Cindy Skjodt for the opportunity to lead the Ice the past two seasons."
Blashill replaces Jim Culhane, who was fired.