With a 7-1 win over Miami, Boston College has advanced to the national championship game.
Again.
This marks the fourth time the Eagles have pulled off the feat in the last five years. Yet in only one of those seasons, five years ago, did they win the Hockey East regular season crown.
The pat, safe answer is that the league is so deep — not only in the top-to-bottom strength that its adherents most frequently tout but also with strength at the top — that it's a dogfight to finish first.
But clearly something special happens when BC gets to the postseason. In short, the Eagles know how to win when it counts the most.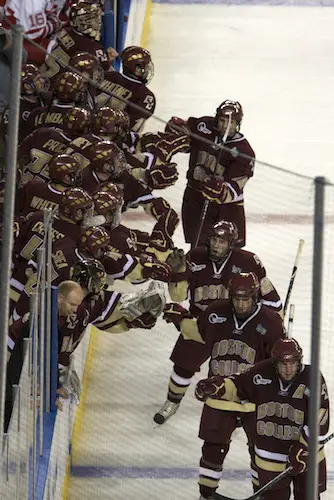 They can finish second in the league, as they did this year and in both 2005-06 and 2006-07. Or they can finish fourth, as they did two years ago.
No matter, they get to the national championship game.
"I've often said that postseason success is because we've won a lot of battles at the kitchen tables in recruiting," BC coach Jerry York says. "If you get a lot of good players, which we have here at BC, you're going to win an awful lot of games."
True enough.
Having upperclassmen who've already thrived on the big stage also plays a big role. Ever since BC's 1998 run to the title game, there's always been a core of players who've experienced the Frozen Four. And although only seven players on this year's squad remain from the 2008 title team, the success of those seven breeds more success among the younger players.
"Each senior class has been there before," Ben Smith says. "That's really important, to have that leadership and to have that experience to help the younger guys get through."
It's not just the upperclassmen.
"Everybody believes in each other in the locker room," Joe Whitney says. "It's not just the players. It's the managers and the strength coach and the trainer."
But perhaps the mind-set of the BC coaching staff factors in most of all. It's a mind-set that may cost the team in the early season but pays handsome dividends in the NCAA tournament.
"We feel as a staff that our sport is like basketball now," York says. "We've become a tournament sport. I don't know who wins the Pac-10 or the Big East anymore in basketball, but you know who wins the national championship.
"We've tried to gear everything for the national tournaments. Not that we don't want to be successful early, but we put more emphasis on developing our team and play a lot of different players."
That focus may cost points in October, November, and December.
"We won't shorten our bench," York says. "We won't do anything that would hurt us in the long run. Sometimes, the temptation might be, 'Let's win this game by playing two lines. We'll overplay our players.'"
York and his staff resist that temptation and reap the benefits this time almost every year.
"This way we've developed four lines," he says. "If we were so intent on winning in November, they wouldn't have gotten the chances to play."
It's a recipe for success you can't argue with.