There's a pretty good chance that Wisconsin's Blake Geoffrion will be holding the Hobey Baker Award as college hockey's top player come Friday evening.
 
On Thursday though, his teammates proved that the Badgers are much more than a one-trick pony.
 
Wisconsin advanced to the national championship game on Thursday with an 8-1 victory over underdog RIT. Granted, the Tigers couldn't hold Geoffrion off the scoreboard, but by the time the superstar recorded his first point of the game, an assist, the score was 5-0. He got his first goal to make it 6-0.
 
Clearly put, this is one deep Wisconsin offense.
 
"We talked about one of the strengths of our team is our depth," said Geoffrion, one of four Badgers to finish record multiple point games on Thursday. "[John Mitchell] comes out with a goal and [Derek Stepan] answers with a quick tip in. That [makes depth] really one of our strengths."
 
"Once the snowball got moving, it kind of kept building and building," said Stepan, who finished the game with two goals and two assists, including one of three power-play goals in the second period. Â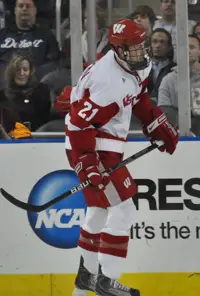 At the same time, the Badgers proved themselves a defensive team to be reckoned with. Wisconsin allowed RIT just 13 shots, including just four in the second period, the critical stanza of the game when Bucky ripped off four goals to RIT's one to turn a 2-0 game into a 6-1 rout.
 
"Their defensemen were able to look up the ice and we weren't able to have them really kind of facing the glass, getting cycles or any sustained pressure at all," said RIT coach Wayne Wilson. "I thought their defensemen moved the puck extremely well and got it out of the zone and really got it out of trouble all night long."
 
Perhaps that solid defense of Wisconsin's can be traced back to simply having a juggernaut of an offense?
 
"We focused on our ability to be intelligent with the puck in [RIT's defensive] zone," said Wisconsin coach Mike Eaves. "By having the puck in their zone and having time in their zone, they don't have the biscuit so I think that takes away from them getting as many scoring chances as they hoped to."
 
Thursday's effort by the Badgers paints a rosy picture as Wisconsin heads into the national title game. Regardless of who the Badgers face on Saturday, they'll be facing a significantly more seasoned opponent in either Miami, last year's national runner-up, or Boston College, the 2008 national champion making its third Frozen Four appearance in the last four years.
 
"There's no such thing as an easy win," said Eaves. "You can speculate and look at tape and all that, but you have to go out there and perform. Our kids did a tremendous job of sticking to the game plan and focusing on what we needed to do to win this game here [against RIT].
 
"We will see who our next opponent is. We will create a game plan and hopefully [the players] will do that same job of sticking to it and doing the things we need to do to be successful."
 
After Thursday's win, you have to believe that doing so will result in Wisconsin capturing its seventh national title.