There Are Blowouts, and Then There Are Blowouts
The only other semifinals in NCAA history with a combined 13-goal differential took place in 1953, but that year was nothing like this one. While Thursday's Frozen Four games both ended up as routs, the '53 semis finished with Minnesota edging Rensselaer 3-2 and Michigan detonating Boston University, 14-2.
It's Always About BC-BU, Even Without BU
Jerry York tied longtime rival Jack Parker of Boston University with his 30th NCAA tournament win, which also ties the active coaching record. York is coaching in his ninth Frozen Four and 11th NCAA tourney with the Eagles, but he also boasts six more national tournament appearances and one more Frozen Four — and a national title — when he coached Bowling Green between 1979 and 1994.
Parker still has a step on York in a couple other categories: BU has been to 13 Frozen Fours under Parker, and 23 NCAA tournaments. Just a few more years, Jerry …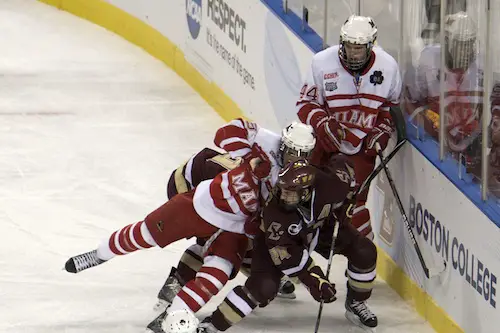 Long Time Coming
The last time the semifinal losers each scored only one goal was 1968. Five years after that, in '73, was the last semifinals in which the winners combined for more than this year's 15: Denver beat Boston College 10-4 before the Pioneers had their participation vacated by the NCAA, and Wisconsin slipped past Cornell 6-5 in overtime. 1975 was the last year in which the victors summed 15, as Minnesota and Michigan Tech defeated Harvard 6-4 and Boston University 9-5, respectively.
Apart from the goal-stravaganza, this is also the first Frozen Four in seven years to pit two No. 1 seeds against each other. (New Hampshire and Minnesota were the last such pairing, in 2003.)
Skeptical on the Spectacle
While the announced attendance of 34,954 set a world record for attendance at an indoor ice hockey game, it was the capacity that proved most suspicious. According to the NCAA, 37,000 was the listed max in cavernous Ford Field. This, despite a football capacity of 65,000 … and a basketball capacity of 78,000, declared for the 2008 NCAA basketball tournament. It's especially dubious as we recall the NCAA's decision mid-season to move the ice surface from the center of the field to one end zone, as rumors of difficult ticket sales insinuated that the move was made to avoid an embarrassingly empty aesthetic.
Senior Moment
BC's win gave the Eagles' senior class an even 100 career victories, with 47 losses and 17 draws. This achievement comes on the heels of archrival Boston University's century-mark senior class of 2005-09, which attained that mark in the national title game in Washington, D.C., last spring.
Obviously, another national championship for this year's Eagles would literally one-up their Commonwealth Avenue foes, 101-100.