When Wisconsin forward John Mitchell knocked in a rebound just 1:27 into the national semifinal game against RIT, columnists everywhere might have been forgiven for instantly typing the words Midnight for Cinderella.
After all, few outside Rochester itself had given the Tigers much of a chance of toppling the Badgers. The contrast between the two schools could not be much more striking.
Wisconsin came into the tournament as the No. 3 overall seed, a proud program with a rich history from the proud WCHA. The Badgers had won the national championship just four years ago, its sixth such title. A traditional powerhouse, it could even point to NCAA championships both times it reached a Detroit Frozen Four.
RIT, on the other hand, had moved up to Division I just five years ago, its proud history at the Division III level. It hailed from the upstart Atlantic Hockey conference and would not have qualified for an at-large NCAA berth.
The upstart vs. the powerhouse.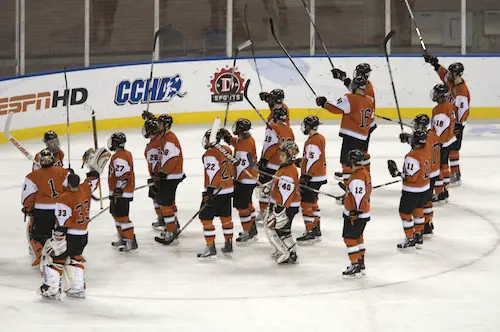 And yet much the same could have been said about RIT's vanquished opponents in the East Regional. Denver had entered the tournament as the No. 2 overall season and could claim seven national championships, including back-to-back ones in 2004 and 2005. New Hampshire had earned three of the last four Hockey East regular season titles and berths in the NCAA tournament in the last nine years.
So maybe Mitchell's goal at 1:27 was only a goal, not an omen of things to come.
Unfortunately for the Tigers, the goal was all omen, no fluke.
Derek Stepan made it 2-0 less than 10 minutes into the game and although that score remained going into the first intermission, Wisconsin's ability to assert itself didn't give a lot of hope for a change in the final 40 minutes.
Not quite men vs. boys but close.
It only got worse in the second period. A lot worse. Wisconsin made it 6-0 by the 13:24 mark on three power-play goals, two resulting from a (deserved) five-minute major for a hit from behind.
In the end, Wisconsin dominated in every way: on the scoreboard (8-1), shots on goal (37-14), and quality chances (14-2).
"They put us on our heels right from the beginning," RIT coach Wayne Wilson said. "Their first couple shifts were very strong. We couldn't get a handle on the puck and they took away the boards real early.
"The second period was a power-play clinic. It was all them. They had the puck the whole time they were on the power play.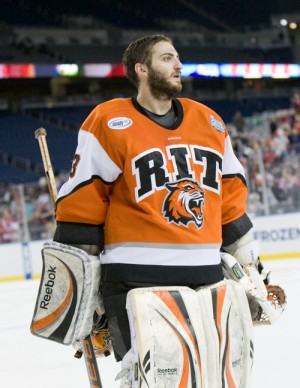 "We ran into a powerhouse tonight. They had an answer for everything. They were physically stronger and quicker. They answered anything we tried to generate and we had a tough time generating anything."
For a team that had been on such a magical ride — heroes on campus and the talk of the college hockey world — to end its season in such a jarring fashion had to be a bitter disappointment for players who had shown so much heart in getting here.
"I'm very frustrated," sophomore Cameron Burt said. "Not only that we lost, but just that these seniors don't get a chance to put on an RIT jersey again. They've given everything they have this year, and all four years, to this team. It's really a shame that we couldn't come out with a win and let them play another game.
"But, I mean, whenever you lose a game of this magnitude, it's hard to handle. Guys in the locker room, you don't want to take your gear off because you know you're not going to put it on again with a game jersey this year.
"It's really hard. We battled all year. It's just a tough pill to swallow."
As the final seconds ticked down, however, the RIT fans, so boisterous at the start, showered their Tigers with the applause they so richly deserved regardless of the score.
"This put RIT in the spotlight," Wilson said. "I'm very, very proud of our year and of our team. This game will not diminish any of it.
"I'm obviously disappointed [but] the score is irrelevant to me. If you lose, you lose. You can't pick how you're going to end your season."
And what a season it was.