Merrimack forward Stephane Da Costa has been named the 2010 winner of the Hockey Commissioners' Association Rookie of the Year award.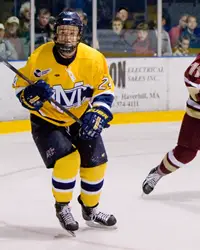 Da Costa helped lead the Warriors to their best finish since the 1993-94 season, with their first Hockey East appearance since 2004 and their first playoff victory since 1998. Da Costa amassed a team-high 45 points, and led Merrimack with 29 assists. He was also the first five-time Hockey East rookie of the month.
Nationally, Da Costa's 1.32 points per game was top among rookies and seventh overall.
The HCA Rookie of the Year is selected by a vote of the 58 assistant coaching staffs in NCAA Division I hockey. Players receive five points for a first-place vote, three points for second and one for third. Rookies of the year in all six conferences were the nominees for the award.
Runners-up were Jerry D'Amigo, Rensselaer/ECAC; Jordan George, Bemidji State/CHA; Danny Kristo, North Dakota/WCHA; Andy Taranto, Alaska, CCHA; Chris Tanev, RIT/Atlantic Hockey.