It isn't dominance until you close the deal.
That, and only that, remained for Boston College to claim college hockey dominance. The Eagles were playing in their ninth Frozen Four in the last 13 years and their fourth national championship game in the past five years.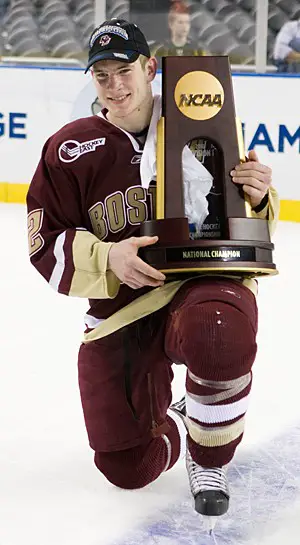 Had they lost to Wisconsin however, they'd have also lost the claim to dominance. They'd have been the number one contender, but not the single dominant team.
However, with national championships in two of the last three years and three in 10, Boston College has established itself as the program against which others must measure themselves.
They've knocked on the door far more than any other team in the last baker's dozen years and they've gotten through more than anyone else.
Not a dynasty. Not yet, at least.
But four of five title appearances (with Wisconsin the only repeat foe) and championships in two of them sure sounds like dominance.
"This program strives for the top and this is it," BC captain Matt Price said after the win.
Not dominance in the "they just had to show up" vein or dominance in the "the opponents had no shot" vein.
After all, despite a 7-1 win in the semifinals against Miami and a 5-0 win over Wisconsin, the Miami contest remained 3-1 with 13 minutes remaining and the title game entered the third period, 1-0.
And the Eagles have two titles in three years and three in 10, not nine in 10.
In a sport known for its ups and downs, the results stand for themselves. This year's seniors have closed out their careers with an 11-1 NCAA tournament record. BC coach Jerry York now holds the record for NCAA Tournament wins with 33.
"They're one of the elite programs in all college hockey," Wisconsin coach Mike Eaves said after the loss. "They have the ability to attract the top end kids because of the type of school they are, because of the coaching staff, [and] because they have the reputation when you go there you believe that you have a chance to win. So they're able to get good, quality athletes and people in there.
"And Coach York and his staff do a great job once they get them there. It's something that we all strive for, and they've got it going right now. They've got a little bit of a roll."
This moment is what each BC season points toward. Inside the Eagles' locker room hangs a three-by-four board with an inverted pyramid of the season, starting at the bottom with the first game and broadening out at the top with the Frozen Four and national championship game in large type. Check marks go on the left for wins and on the right for losses.
The final destination, the top of the inverted pyramid, is never in question.
"BC has been one of the really bright lights in college hockey since 1920, 1925," York said. "There's probably six schools that could say that through the long history of college hockey and we're proud to be in that top six.
"We're a fairly small school. But we're a special school. And I think we attract a lot of really good student-athletes.
"We feel terrific pride [in what we've done in recent years]. It runs in cycles. Minnesota had it going for a while. North Dakota had it going for a while. BU had it going for a while.
"But BC has stuck with it, been very consistent for 70 or 80 years of producing top-flight college teams. That consistency is what I like the most about it."
Note to the rest of college hockey: This year's national championship team was loaded with freshmen and sophomores.
You know what that means?
See you next year in St. Paul.