It's not unusual to see lopsided games in NCAA tournament play, but a shutout of any kind in the championship game is rare. Previous to Saturday's game, only three other teams in the 63-year history of the NCAA men's Division I national tournament have found themselves scoreless at the final buzzer of the title game: Maine (2004), Cornell (1968) and North Dakota (1968).
What makes Wisconsin's 5-0 loss even more of an anomaly is the Badgers' offensive output this season; coming into the national championship game, UW was the second most-productive offense in the nation, averaging a shade over four goals per game — pushed over that four-goal mark by Thursday's 8-1 semifinal win over RIT.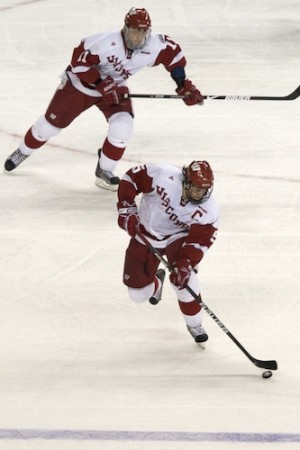 Saturday's frustration was a combination of Boston College's team defense and the Badgers' own inability to capitalize when they did possess the puck.
"In the first period, I thought we didn't do the things we wanted to with the puck, both at their blue line and our blue line," Badgers coach Mike Eaves said. "In the third period, we never got that next goal, which could have possibly changed the game."
This Wisconsin team boasted seven players with more than 10 goals and two 20-goal scorers, including this year's Hobey Baker winner, Blake Geoffrion (who had 28), and the Badgers roster had four players with 50 total points. Geoffrion had seven goals and 13 assists in six postseason games this year, including two game-winning goals and three power-play markers.
None of that matters, though, when such talent has difficulty retaining possession of the puck. "The Eagles did a good job of blocking shots and collapsing down low and pressuring us pretty hard," said Geoffrion, "and getting the turnovers to find the zone, and they were able to transition off that."
"They did a tremendous job of getting in shooting lanes," said Eaves. "It just seemed that we couldn't get pucks to the net. They blocked a ton of shots. I thought that was one thing they did very well."
When Wisconsin had the chance to create some offense, the right Badgers had it on their sticks … but they couldn't score.
"On our last power play, Ben Street had the puck right where he wanted it … and fanned on it," said Eaves. "Michael Davies knocked the puck out of the air, was walking in on the breakaway and it bounced on him. It just didn't seem to be our day."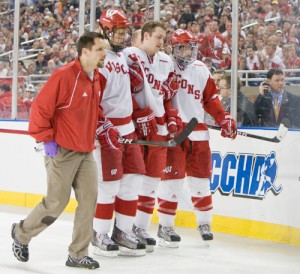 Street had 14 goals this season, and Davies scored his 20th in Thursday's semifinal. And the Badgers lost top scorer Derek Stepan to injury in the third period. Stepan had two goals and two assists against RIT.
"You take a 50-point guy out of your lineup [when] you try to bounce back being down," said Eaves, "it takes a little bit of your zip away. Injuries are part of the game and it's one of those things you have to battle through, but definitely when you lose a guy like that, it affects your power play and your ability to score goals."
Then there was the inability to get to BC goaltender John Muse. The Badgers averaged nearly 38 shots on goal per game this season; Saturday, they had 20.
"I think we needed to get more rubber on him," said Eaves. "That would have made his job more difficult."
The Black Bears, the Big Red, the Fighting Sioux — and now the Badgers. How did they join the list?
"I just didn't think we had our best effort tonight, in terms of being sharp," Eaves said.