Saturday night's national championship game between Boston College and Wisconsin is shaping up as one that maybe only Forrest Gump can appreciate.
When these two teams square off at Ford Field in a rematch of the 2006 title tilt, it will be just like a box of chocolate — you never know what you're going to get.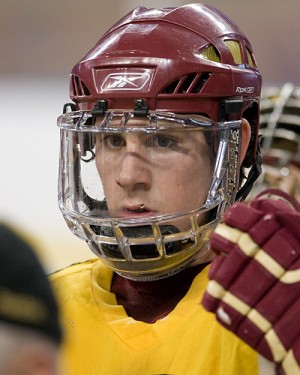 The teams are mirror images of one another. Each features a high-powered offense. Each has best-in-class defensemen that not only take care of the puck in their own end, but transition faster than the Road Runner and seem extremely comfortable jumping into the offense.
And after each routed their opponents in Thursday's semifinal game to get to the finals — Wisconsin won 8-1 against RIT and BC nearly matched that with a 7-1 decision over Miami — it's simply impossible to tell whether Saturday final will be a 2-1 defensive struggle or a 7-6 shootout.
Regardless, anyone that is part of the anticipated record crowd that will be in attendance at Ford Field is going to be treated to some entertaining hockey.
"There's not going to be a lot separating the two teams but those small, little details are probably what differentiates these two clubs," said BC coach Jerry York. "[Wisconsin is] going to have good offense and good defense, but we've played teams similar to Wisconsin over the course of the year."
If there is one point of differentiation between the two clubs, it is the Wisconsin blue liners. The Badgers defense features experienced, skilled defensemen that love to become part of the team's offense. Though the Eagles blue line has offensive talent, particularly when it comes to senior Carl Sneep and sophomore Tommy Cross, it doesn't have the experience (three freshmen and two sophomores) or the penchant to take the offensive risks that the Badgers do.
"Our philosophy always remains the same, that we want to get that second wave of attack from our defensemen," said Wisconsin coach Mike Eaves. "We have the thought process that we want to get [defensemen] involved in the rush. We want to get them involved in the attack."
For BC, playing against aggressive defenses isn't new, according to York. He points out players like Blake Kessel at New Hampshire, Kevin Shattenkirk and Colby Cohen at Boston University and Jeff Dimmen at Maine all possess those qualities. What he'll face on Saturday, though, is a team that seemingly has all of these players, and more, coming at them at once.
"We've seen these types of players, but never six on a team like Wisconsin has," said York. "That's one of the strengths of their club."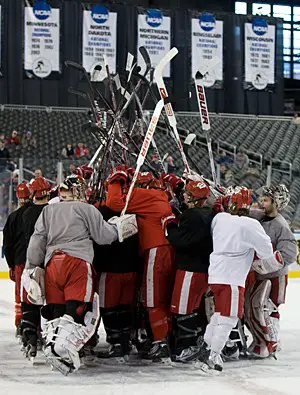 Pacing the powerful Wisconsin blue line is Brendan Smith, who tied a Frozen Four record for assists on Thursday night setting up five of Wisconsin's eight tallies. Smith is a player that Eaves calls "high risk, high reward" noting that often times the chances he takes offensively can cost the team on the defensive side if not careful.
"I think our process with Brendan is trying to narrow down his decision making so they're high-end decisions, high-percentage decisions," said Eaves. "But because he has a natural instinct, you don't want to take that away, you want to fine tune it. The thing about Brendan that doesn't get enough credit is that he takes great pride in the fact that he's improved with his play without the puck. His gap, his stick, his presence in front of the net has grown immensely that will make him a better, more well-rounded defenseman when he wants to make that next step."
Smith and the Badgers, though, will have to be careful, though, not to get too aggressive against an Eagles offensive corps that is averaging more than six goals per game in the national tournament.
"We would want to [control puck possession] but the key is if we're going to be able to do that based on what BC is able to do and how we play," said Eaves. "It would still be the same concept [used against RIT] of being able to control the puck in their zone and take time off the clock, have good puck position, protect the puck, make good decisions with the puck. But our ability to do that will be based a lot on what they do and how well they play in their own zone."
So when the puck is dropped on Saturday at Ford Field, which will win out: offense or defense? At this point, not even the brilliance of Forrest Gump could answer that question.