Brown forward Jordan Pietrus is the 2010 winner of the Derek Hines Unsung Hero Award, presented by the Hockey Commissioners' Association. The award is named for the former Army co-captain who played for the Black Knights from 1999-2003 and who was killed in action in Afghanistan in Sept. 2006.
"I am extremely honored to earn recognition in remembrance of Derek Hines," Pietrus said. "The character, sacrifice, and leadership he possessed are traits I admire and attempt to emulate in not only athletics, but also in my every day life as well."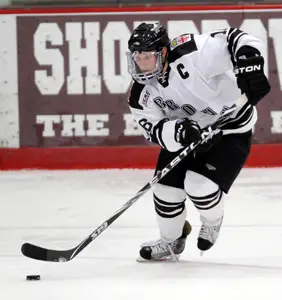 Pietrus led the Bears in scoring through the first 21 games of the season before what was thought to be a season-ending injury against Union on Jan. 30. He returned to the lineup about three weeks ahead of schedule and helped Brown to a third-place finish in the league playoffs after finishing next to last in the regular season.
The Winnipeg, Manitoba, native has a 3.50 GPA and has been on the ECAC Hockey all-academic team all four years. Pietrus has been involved in the Providence, R.I., community, including volunteer work at an elementary school and organizing a toy drive.
"At his core, Jordan embodies integrity, strength in community, responsibility, competitive spirit, and pride," said Brown first-year coach Brendan Whittet. "His values are unwavering and correlate completely with with founding principles upon which Brown Bear hockey is based."
Each of the six NCAA Division I hockey conferences submitted a nominee for the student-athlete who "best personifies Hines' spirit and restless commitment," according to the HCA. The winner is selected by the sports information directors of each of the six conferences.
Honorable mentions were Matt Fairchild, Air Force/Atlantic Hockey; Luke Glendening, Michigan/CCHA; Davide Nicoletti, Alabama-Huntsville/CHA; Darcy Zajac, North Dakota/WCHA; and Brett Watson, Massachusetts/Hockey East.