Wisconsin senior forward Blake Geoffrion became the first Badgers player to win the Hobey Baker Award, announced Friday at Ford Field, site of the 2010 Frozen Four.
"It's an honor to win this award," he said. "I'm just happy to bring this back to Wisco."
Related video: Hobey Baker Award
Geoffrion led the WCHA and is tied for second in the nation with 28 goals and has 50 total points going into Saturday's national championship game. He was named most valuable player in the NCAA West Regional, and was also a WCHA first-team all-star.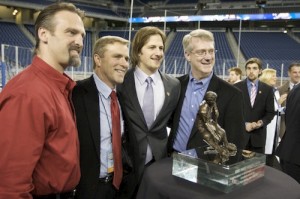 The Brentwood, Tenn., native was the 56th pick in the 2006 NHL entry draft, selected by the Nashville Predators.
New Hampshire's Bobby Butler and Maine's Gustav Nyquist rounded out this year's "Hobey Hat Trick."
Geoffrion was the 10th Wisconsin player to be named a Hobey Baker finalist. Others have included Steve Reinprecht (runner-up in 2000), Brian Elliott (Hobey Hat Trick in 2006) and teammate Brendan Smith, who was also named a finalist this year.
Geoffrion talked about the honor of becoming the first Wisconsin player to win the award.
"Great alumni have come through here with great seasons," he said. "I'm in awe of that. Coach [Mike] Eaves, Dany Heatley, the Suter brothers, I don't think I can compare to them."
Hockey runs in the Geoffrion family, with father Danny, grandfather Bernie and great-grandfather Howie Morenz all former Montreal Canadiens. Bernie "Boom Boom" Geoffrion and Morenz are both members of the Hockey Hall of Fame.
"I love my family to death," he said. "My grandfather and great grandfather are Hall-of-Famers. This doesn't compare to what they have accomplished, but it's definitely a big honor. My family has been known as natural goal scorers with God-given talent. If you look at most of my goals, they're not like that. … I'm a little different kind of player."
After a 28-point junior season, Geoffrion elected to return for his senior year rather than signing with Nashville.
"I didn't think [that by coming back] I'd be up for the Hobey Baker Award," he said. "I wanted to get my degree. I wanted to come back and win a national championship. I knew we had a good team, a national-champion caliber type team."
Geoffrion will try to become the sixth player in history to win the Hobey Baker and an NCAA title in the same season.
"My ultimate goal is win a national championship," he said. "It's all that's on my mind from here on out."