The record book will say that the West won the fifth annual Frozen Four Skills Challenge Friday night at Ford Field.
Allie Thunstrom likely will have to actually consult that record book to pull back that particular memory.
"No one's going to remember who won," said Thunstrom, a Boston College player who was on the East side. "We're just going to remember all the jokes and fun off the ice."
Thunstrom starred in the skating competitions, but the East dropped a 10-6 decision to the West.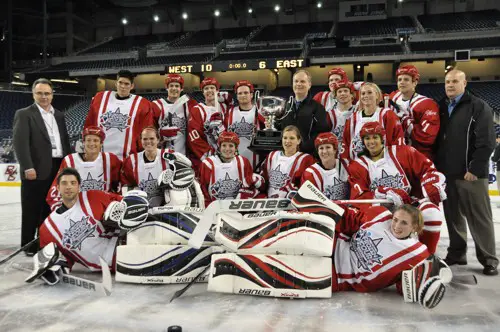 The event brings 32 seniors — 16 men, 16 women — from the Division I and Division III ranks to the Frozen Four site for the competition, but the participants get the side benefit of taking part in college hockey's signature weekend.
"It's an unbelievable experience," Thunstrom said. "It's been a blast so far."
St. Cloud State's Ryan Lasch was a standout in the shooting accuracy competitions for the West. He scored four times on eight shots against Cornell's Ben Scrivens in the Rapid Fire competition won by the West, pulling it into a 5-5 tie in overall points.
He then hit all five targets in the Accuracy Shot contest, joining Huskies schoolmate Caitlin Hogan, who hit all five targets in the women's competition to give the West the lead for good at 8-5.
Lasch said the West's victory may have given him a leg up on former junior teammate Jason Walters of Union.
"Maybe I have a little more bragging rights now," he said.
But Lasch knew the real point was the fun.
"It's definitely a fun time," he said. "Since we've been here the atmosphere has been great for us."
The teams split the Puck Control Relay, and the East won both points in the Fastest Skater competition, thanks in part to Thunstrom.
"That's all I've got," Thunstrom said of her skating.
Massachusetts-Lowell's Kory Falite won the Hardest Shot competition for the East men at 92.9 mph. Ohio State's Rachel Davis had the hardest shot among the women, 70.7 mph.
The West swept the points in the Rapid Shot and Accuracy Shot contests, and the West had two of the three penalty shot goals scored. St. Lawrence's Brittony Chartier, the East's only women's goaltender, stopped all six shots she faced.