Colgate forward Ethan Cox won the 15th annual BNY Mellon Wealth Management Hockey Humanitarian Award, presented at center ice of Ford Field's ephemeral rink on Friday. Established to acknowledge extraordinarily conscientious NCAA hockey players, the award considers all divisions and genders.
The senior co-captain was honored for his outstanding charity work in the greater Hamilton, N.Y., area, where he saw a need … and a calling. Raised in a socially conscious atmosphere, Cox knows the value of helping those less fortunate.
"I believe that this award is more a reflection of the parents than of the [recipient]," he said in his acceptance speech. "My parents were both teachers and they instilled in me the notion of giving back ever since my brother and I were children. They told me to always be thankful and the best way to express that is to give back to those less fortunate than I am," he said in the lead-up to the presentation.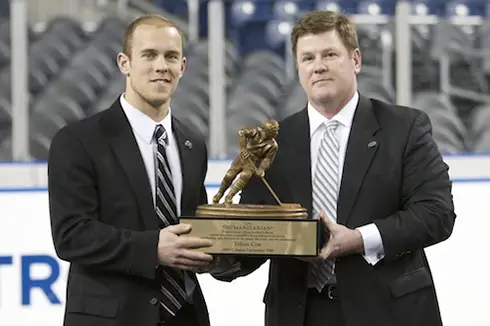 The product of Richmond, B.C., orchestrated not only an annual holiday food drive — the 2009 edition of which brought in over a half ton of non-perishable food items — but also Colgate's "Facing Off Against Cancer," a sponsorship fundraiser that raised $25,000 for the American Cancer Society (ACS) in 2008 alone.
But that's not all. Cox successfully encouraged the football team, as well as the campus as a whole, to get tested for possible bone-marrow donation. He helped the women's soccer team raise money for the cancer treatment of one of its players as well as the ACS. He organized holiday toy drives every year of his collegiate career. He has generated over $14,000 in cash and donated items for various local and national charities, above and beyond those already mentioned.
"There is such a need," Cox said. "The number of families under the poverty line in Madison County [N.Y.] is very high. It's an amazing feeling to see such a big response. Without our fans, these events wouldn't be possible.
"Community service is about more than financial concerns. It's about connecting with a community, and becoming a part of the community. … It's about leaving it better than it was when you found it."