Potsdam forward Antony Proteau lost his battle with cancer, passing away on April 3.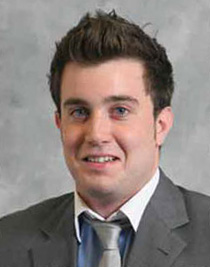 Proteau, from Montreal, Quebec, was diagnosed last June. He took the Fall semester off to fight the disease, returning to classes in the Spring. He felt healthy enough to occasionally skate with the team and was making plans to return to the sport next season. However, when the sophomore returned home for spring break, he fell ill and was hospitalized with a relapse.
"With such a small, tight-knit community, the loss of one individual impacts many lives on our campus," said Dr. John F. Schwaller, president of SUNY Potsdam. "I know from coaches and friends that Antony's courage in battling cancer was truly inspirational, and we are very sorry for the loss of this young man and member of the Potsdam family. Our sincerest condolences go out to all who knew him."
In his freshman year, he was the Bears' third-leading goal scorer with 10 (six of them on the power play) in the 23 games he played. Proteau scored a hat trick against Suffolk, got the game-winning goal against Morrisville, scored a key goal in Potsdam's upset over Oswego, and in a weekend series against Western New England notched three goals and two assists. In total, he also had 10 assists for 20 points, fifth on the Potsdam roster. He was voted by the league coaches to the 2008-09 SUNYAC All-Rookie Team.
"Antony Proteau was a great player and an extraordinary person," Potsdam coach Chris Bernard said. "His humor, talent and character will be severely and deeply missed. The courage and strength that he displayed, under the most terrible adversity, was beyond inspirational, and his memory will last in our hearts and our program forever. We are extremely sad for his family and his friends as they travel through a period of such tragic loss."
Throughout this season, Proteau's jersey hung in the locker room. After his passing, flags flew at half-staff on the Potsdam campus.