NCAA runner-up Wisconsin has two players on the All-USCHO First Team, a set of awards determined by USCHO staff writers and editors at the conclusion of the Frozen Four.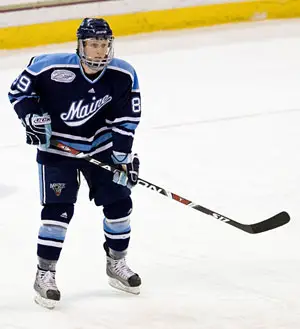 Forward Blake Geoffrion, the Hobey Baker Award winner and USCHO's national player of the year, and defenseman Brendan Smith represent the Badgers on the first team.
The rest of the first team: Maine forward Gustav Nyquist, New Hampshire forward Bobby Butler, Massachusetts defenseman Justin Braun and Denver goaltender Marc Cheverie.
First Team
Forward — Blake Geoffrion, Wisconsin: The USCHO national player of the year and Hobey Baker Award winner had 50 points (28 goals, 22 assists) in 40 games. His goal total as a senior was one more than in his first three seasons combined.
Forward — Gustav Nyquist, Maine: A Hobey Hat Trick finalist, he was the national scoring leader with 61 points (19 goals, 42 assists) as a sophomore. He put up 29 more points than in his rookie season.
Forward — Bobby Butler, New Hampshire: Another Hobey Hat Trick finalist, he was plus-17 in addition to his 29 goals and 53 points. He's another forward who put up big numbers in his senior season; he had just 32 goals combined in his first three years with the Wildcats.
Defenseman — Brendan Smith, Wisconsin: A dynamic two-way player, he scored 11 of his 15 goals on the Badgers' dangerous power play. His 52 points were 29 better than in his sophomore season.
Defenseman — Justin Braun, Massachusetts: A defensive defenseman, his efforts in his own zone stood out on a team that ranked in the bottom third nationally in scoring defense. He added eight goals and 31 points.
Goaltender — Marc Cheverie, Denver: Competing in a league that features some of the best offenses in the country, he was a solid backstop to the Pioneers' success. His 24 wins tied for second in the country, and he added six shutouts.
Second Team
Forward — Rhett Rakhshani, Denver: The leader of one of the nation's top teams all season, he reached the 50-goal level as a senior with 21 goals and 29 assists.
Forward — Chase Polacek, Rensselaer: After scoring 18 times in his first two seasons combined, the ECAC player of the year had 26 goals as a junior.
Forward — Cam Atkinson, Boston College: He surged to the finish, scoring six goals in the NCAA tournament to reach the national lead with 30, helping the Eagles win the national championship.
Defenseman — Patrick Wiercioch, Denver: He was one of Denver's steadying presences even though his offensive contributions dipped from his freshman season.
Defenseman — Dan Ringwald, RIT: His plus-22 rating was second in Atlantic Hockey, and he was a driving force in getting the Tigers to the Frozen Four for the first time.
Goaltender — Ben Scrivens, Cornell: The national leader in save percentage (.934) also posted a stellar 1.87 goals-against average.