You're not often going to find a forward who's fourth on his team in scoring and still skates away with the Hobey Baker Award.
With Blake Geoffrion, it's about the intangibles.
Related link: Blake Geoffrion Game-by-Game
The senior was a motivator and a driving force for Wisconsin on its road to the Frozen Four. He was a dangerous element on the Badgers' power play. He was a committed penalty killer who made it difficult for the other team to get shots through to the net.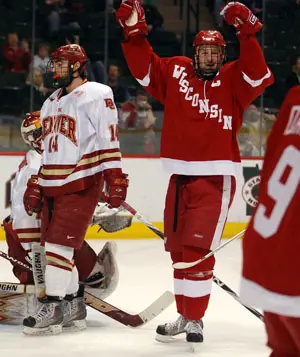 Add in that he was in the mix for the national goal scoring lead with 28, that he was especially noticeable down the stretch, and that he did it as a senior who could have tested the pro waters earlier, and you get to see more of the picture of why Geoffrion was the choice for Hobey.
Geoffrion also is USCHO's national player of the year after a 50-point season in which he pushed the Badgers to a national runner-up finish.
The balanced game that Geoffrion gave Wisconsin was one of the biggest reasons he and the team were so successful.
"He's our first guy to go out there to kill penalties," Badgers coach Mike Eaves said. "He puts his body out there to block shots. On our power play, he's our post guy. He's the guy in front of the net that has a real good feel for that. He's the guy that's going to be on the ice when we're up by a goal, down by a goal.
"His ability to play in all situations, his ability to lead, his ability to come up offensively for us, are the things he brings to the table and it's nice to hear his teammates recognize that. Blake was out for a couple of games and a couple guys came up and they said that, 'You know, we're a really different team without Blake.' And that's coming from the inside out; I think that's a high compliment."
Geoffrion may have been at his best late in the season, especially in the NCAA West Regional. He scored in each game and added three assists to become the regional's most valuable player with a five-point effort in victories over Vermont at St. Cloud State.