It is time to wrap things up in college hockey. Surf's up here on the south shore of Long Island; time to get the surfboard back in the water.
Some facts and opinions to end the season:
FACT: Chris Bergeron is the new head coach at Bowling Green. OPINION: Great hire. There were a lot of guys out there that would have made good choices, as this is a buyer's market for coaching candidates. Bergeron was a big part of Miami's success and helping to create "The Brotherhood" that makes Miami what it is. He has played for some terrific coaches in minor pro hockey and worked with a very good one in Rico Blasi for many years. It will take some time but Bergeron will be successful at BG.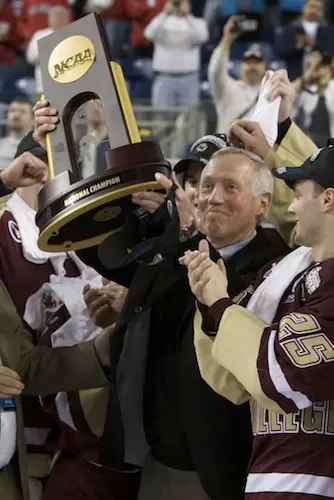 FACT: Boston College wins the national title. OPINION: This might be Jerry York's fastest team. I'm not sure any other team could have made Wisconsin look as average as it was in the national title game because Wisconsin was a very good team that just got out-executed and didn't get a great game in goal. That makes three straight NCAA championships for Hockey East, and three straight from the Hub of College Hockey — Boston. Hats off to the Badgers and Mike Eaves — that was a really good team.
FACT: Frank Mazzocco and Doug Woog are out as Minnesota broadcasters FS North. OPINION: Woog will stay on in a smaller role, but this is a shame. It will happen to us all at one point, but the team these two made up was just a great listen. If you are a Gophers hater it was a tough listen because they were pro-Gophers, but these two could make you laugh and gave you an enjoyable telecast that was folksy and fun but also professional. These two as a pair will be missed by those inside and out of the state of 10,000 lakes.
FACT: RIT makes the Frozen Four. OPINION: The Tigers didn't do well in Detroit (then again, people have been saying that line for the better part of the last 100 years about the local baseball team) but they won just by getting there. It was a historic run by RIT to make it to Ford Field, and it was a great story. The Tigers fans did them proud and were the loudest fans at the national title game despite their team not being there. This was a huge step for Wayne Wilson's crew, but following it up with another strong season will be important.
FACT: Debate rages on about the Frozen Four. OPINION: It is not a popular one in the management circles but this wasn't a great Frozen Four for what usually makes the Frozen Four great. Yes, 17,000 more people saw the national title game in person than ever before, a situation that the CCHA helped to bring to fruition and that has to be acknowledged as a good thing. However, if you are from the quality-over-quantity side of things, you still feel that this was a little flat in terms of atmosphere and sight lines inside the building. If this was a once-in-a-blue-moon event then applaud the folks who made it happen and hope it stays the exception rather than the norm. It still was an idea worth trying but carefully analyze it before it happens again.
Off the ice this was very well done. Whether it be fans, media, scouts, etc., the consensus is that the NCAA, CCHA, and Ford Field folks did an outstanding job inside the building. The fan fest worked well. Inside Ford Field, signs were well posted and clearly marked. Volunteers and paid staff brought in to help were great. There was almost no reason to have to ask someone where to go or what was next; it was clearly presented. Marc Bedics on the NCAA side and Tom Anastos, Fred Pletch, Teddy Newton, Steve Piotrowski and Rob Murphy on the CCHA should be recognized here. This was as smoothly run Frozen Four as there has ever been in terms of the behind-the-scenes stuff.
FACT: A CCHA officiating crew works the national title game. OPINION: Nice touch by the NCAA. You cannot officiate a game in the national tourney if your conference is in that game. There was no CCHA team in the final, so CCHA veterans Matt Shegos, Mark Wilkins, Tony Molina and Bruce Vida got to do the game on their home turf. Great stuff!
Some thank yous are in order here.
To the sports information directors and conference PR folks, you make our job on the broadcast and print side so much easier.
To the coaches and players. Thanks for your availability. Some teams get heavy coverage and some don't, but each and every year more and more teams understand that we need each other to grow our game.
To the folks at the CBS College Sports Network. That means Andy Kosco, Mike Pittman, Matt Litke, Shawn Jensen, Ross Molloy, Stu Stressler, Dick Mullen and the boss Steve Herbst. The support you provide for us in the broadcast booth is what makes us as good as we are as a team. No matter who is playing that night on our air you treat it as the most important game in the history of the network and it shows. Thanks to you we still going strong after seven years in college hockey. Rookie season accolades to my new partners Matt Shepard and Dave Ryan, two hockey veterans who came in and continued the tradition of excellence on the play-by-play side after Matt McConnell returned to NHL play by play after four seasons at CSTV/CBS College Network.
To the folks who write for USCHO. Our crew does a great job keeping you informed of the latest in college hockey. That's a lot of Friday and Saturday nights away from family for a job done mostly out of love for the game as opposed to salary.
To the fans. Whether you agree or disagree with us, like us or hate us, watch us or don't, you are what powers this engine. This game and this industry is nothing without the fans. You show up at games in record numbers, wear your team colors everywhere, and create an atmosphere that those who are either broadcasters, writers, or scouts love to be in. Players play college hockey because of the atmosphere you create either on the road or at home. As Red Berenson has always said about Yost Arena: "Why would you ever replace this? You can't get this anywhere else. This is college hockey." He is right and it is not just Yost but Ritter, Alfond, Agganis, The Whitt, Kohl Center, Lynah, Starr Rink, Magness, Carlson Center, Matthews Arena, The Ralph, and all the rest of them that on any night you call home.
To my family. Your support could never be appreciated enough.
Enjoy the NHL playoffs. We'll see you in October.