Mark A. Emmert, the president at Washington, was named Tuesday as the NCAA's president.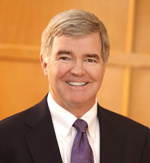 Emmert will take over the national college athletics governing board on Nov. 1. He replaces Myles Brand, who died last September; James L. Isch has been interim president since that time.
Emmert has been president at Washington since 2004. The school is second among all American public and private institutions in research funding with $1 billion in grants and contracts per year.
He was chancellor at Louisiana State from 1999 to 2004.
"It is my great honor to accept this assignment," Emmert said in a news release. "It is more than a new job for me. This is special. This is an opportunity to help shape one of the great American institutions."