Another element of finality has come down in the decision to remove the Fighting Sioux nickname from North Dakota.
Licenses to sell apparel with the Fighting Sioux logo will expire on June 30, 2011, and will not be renewed, according to a memo from the group responsible for licensing for the university.
Licensing Resource Group issued the memo to apparel makers this week, outlining the process for the removal of Fighting Sioux merchandise.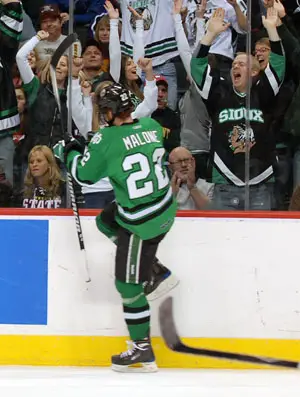 The North Dakota State Board of Higher Education instructed the school to retire the Fighting Sioux name and logo by Aug. 15, 2011.
The NCAA considers Native American nicknames "hostile" and "abusive" and has given schools with those nicknames deadlines to change them unless they get approval from local tribes to continue using them.
The board decided in May 2009 to retire the logo and nickname, and the North Dakota Supreme Court ruled in April that the board has that authority.
North Dakota teams will continue to be called the Fighting Sioux through the 2010-11 season.
During that time, apparel licensees will phase out their merchandise with the Fighting Sioux name and logo.
According to the Licensing Resource Group memo:
• No new licenses for what it calls "Sioux Head" merchandise will be issued after July 1, and no new designs with the Fighting Sioux name or logo will be approved starting Oct. 1.
The memo amended that statement to allow for national championship apparel design and sale past June 30, 2011, if necessary.
• Between July 1 and July 15, the school and Licensing Resource Group will check retailers in the North Dakota region for any Fighting Sioux merchandise, which would be subject to confiscation.
• The university intends to protect the Fighting Sioux name and logo after June 30, 2011, for potential use in what it calls "special events, milestones and historic opportunities." Those would be controlled by the school.