Taking and passing tests is something that has allowed Harvard sophomore-to-be Danny Biega to achieve the success he has had through much of his life.
Biega, who finished prep school at Salisbury (Conn.) a year early in order to play his freshman year at Harvard with older brothers Alex and Michael, also hopes to get on the fast track at Harvard.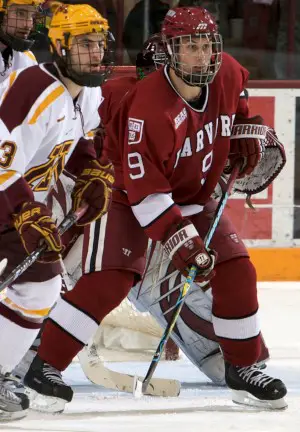 Yes, you read that right. The youngest of the Biega brothers hopes to take the run-of-the-mill, average-old-I'll-get-through-Harvard-in-three-years route to his degree.
"Having both of my brothers go through [Harvard], one just graduating, it's good in a sense that you learn the system," Biega said matter-of-factly. "It's very possible to actually graduate in two-and-a-half or three years. That's the goal so far. We'll see what happens."
The reason for that goal is to accelerate his hockey career. Biega, who says he feels ready to play professional hockey today, will be among the crop of talented players hoping to hear their names called during this week's NHL Entry Draft at the Staples Center in Los Angeles (Friday, 7 p.m. Eastern, Versus; Saturday, 1 p.m. Eastern, NHL Network).
Biega enters the draft with relatively high expectations. The 6-foot, 195-pound defenseman from Montreal finished 46th among North American skaters in the final NHL Central Scouting rankings. While that ranking might have been somewhat disappointing as Biega fell 15 spots from midseason, success on yet another test — the NHL combine — gives the blueliner a reason to be hopeful as he heads to the city of glitz and glamour.
The combine is a relatively new component of the scouting process leading into the NHL Entry Draft. There are 32 total tests, 21 that focus on the musculoskeletal performance. Of those 21 tests, Biega finished in the top 10 in 17 categories and was the top overall prospect in six: eight hand grip (pounds), left hand grip (pounds), bench press (number of 150-pound reps), push strength (pounds), pull strength (pounds) and upper-body power (4 kilogram ball toss).
"Going into the combine I didn't know what to expect," Biega said. "The only experience I had was talking to teammates like Louis Leblanc, who's done the combine before."
After getting a list of exercises a few months prior to the combine, it was off to work for the 18-year-old. The fact that Harvard's season was a somewhat disappointing one may have actually paid off when it came to getting in shape, though.
"I had the benefit because our season ended pretty early as compared to most junior leagues," Biega said. "I had about two months to train for this so I trained pretty hard for it."
Once the season concluded, Biega worked with Harvard strength coach Tim Mullen to develop a program that would help him succeed at the combine. It was his belief that doing well in the combine might not help him in many ways, but it certainly couldn't hurt him.
"You have to give credit where credit is due. Our strength coach really knows his stuff. He put together a really good program for me specifically for the combine for spring," Biega said. "As far as the physical testing part of it some of the teams told me they could not care less how much I can bench press or how high I can jump. I was taken back a little bit, but at the same time it makes sense. If you can bench press 150 pounds 20 times, it doesn't translate to your overall ability on the ice.
"At the same time, it can't hurt to do well in some aspects of the testing. Obviously, it can be beneficial in some aspects. The teams can see the overall strength and the overall ability and potential to how much stronger you can get."
Beyond just the ability to train for the combine, Biega credits much of his success to the path he has taken in hockey. He wanted to follow in his brothers' footsteps — Alex, a fellow defenseman, was a senior heading into last season; Michael was a junior forward. The three brothers had never played on the same team together because Danny was too much younger. When the opportunity presented itself to come to Harvard a year earlier, Danny jumped at it, accelerated his schedule at prep school and entered Harvard last fall.
"It was a lot of fun playing with my brothers," Biega said. "Alex and Mike had played together growing up, so they were used to it. For me, I didn't know it would be weird and whether I'd like it or wouldn't like it. During the games and during practices, most of the time I forget they're on the ice. They're just another player on the team. But when you step off the ice, it's nice to realize they're there. You have close support."
Coming to Harvard a year earlier, though, also meant that he'd be enrolled in college when his draft year came around. Instead of working in a prep school environment, Biega would be surrounded by older players. He also, though, would have the opportunity to immediately gain the strength he needs to be successful.
"[Harvard] helped me a ton," Biega said. "Comparing it to most junior leagues, we lift twice, three times a week in season and out of season, that's three, four or five times.
"We're lifting all year round and it's very progressive as far as weights go. We're adding more weights as time goes on so you're getting stronger and stronger. Just doing that from the beginning of the year to the end of the year just helped overall strength."
All of that was a major contributor to Biega's success when he had his first chance to impress his potential future employers at the NHL combine.
"I was pretty happy with my overall performance but I set pretty high goals for myself, pretty high standards going into the testing," Biega said. "I trained really hard for it. I'm not necessarily surprised. I accomplished my goal more than anything else."
His next goal, then, is to take the steps to get from college to the NHL. It would again be a chance to follow in his brother's footsteps after the eldest of the Biega trio signed recently with Buffalo. The youngest Biega's fate may be decided this Friday or Saturday, when he hopes his name will be called from the Staples Center stage.
As for expectations, Biega said he's trying to keep his in check.
"You never know what can happen at the draft," Biega said. "I've heard of kids who are ranked early first round who don't get drafted, and there are kids who aren't ranked [who] get drafted relatively high.
"For my ego it would be great to go first or second round. That would be awesome. Realistically, I have it in my mind right now that I don't care if I go first round, fourth round, fifth round. As long as I'm drafted to a team I have the opportunity."
Given the success that Biega has had thus far in his life, you have to believe that this would yet again be an opportunity he would seize. It would be yet another test that this young blueliner would likely pass with flying colors.