Just hours away from the NHL Entry Draft, pretty much every pundit is trying to make his or her prediction as to which prospect will be selected by which team. This writer will admit, that's something I've never been very good at, but that doesn't in any way provide good reasoning for why I won't try once again.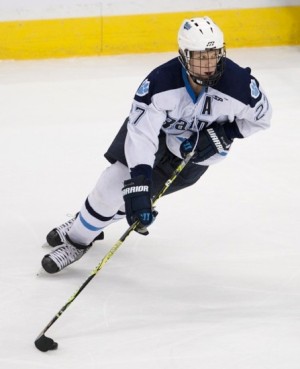 Call it a lack of ambition, lack of deep knowledge or just lack of desire to be wrong 30 times, but this man will make just 10 selections. That said, they're the top 10 and likely, when the draft's first day is over, these are the teams, the players and the picks that people will be talking about.
So here goes. Time to see how near or how far to reality I can come. Please, no parimutuel wagering here. There's no exacta, trifecta or superfecta bets available. The only ones gambling here are the following 10 teams on the selections they make.
So let's get started.
1. Edmonton
The Oilers can be considered to be in an advantageous or a vulnerable spot. With the first overall selection, you'd think there's no way that a team can go wrong. But in a year when there are two valid No. 1 picks available in the draft, there's always the concern that you'll make the wrong pick. The Oilers, truthfully, need everything. So whether they take Taylor Hall or Tyler Seguin, Edmonton will get a player that will make a difference. Which is perfect, unless the player it doesn't pick turns out to be twice the player. Best of luck, Edmonton.
Selection: Taylor Hall, LW, Windsor (OHL)
2. Boston
The Bruins know that they want Hall, but it's not any sort of guarantee that he'll be available. At this point, he's the player that makes the most sense. The Bruins are center-heavy, something that got worse on Tuesday when they traded for Florida's Greg Campbell, and are desperate for a dynamic winger that can help improve the offense. That said, it's hard to believe that the Bruins are going to sell the farm in order to move up to the No. 1 slot to get their man. There will be plenty of players on the table should they try, including Marc Savard and two ex-collegians Tim Thomas and Blake Wheeler. I just have a hard time believing it will happen.
Selection: Tyler Seguin, C, Plymouth (OHL)
3. Florida
The Panthers' new management has already been active, trading away former third overall choice Nathan Horton for Boston defenseman Dennis Wideman and the 15th overall choice in the first round. But reinforcement along the blue line is a must given that the Panthers ended last season with four rookie blueliners. With Cam Fowler available after the Oilers and Bruins take the draft's top players, it would be a shock if they didn't nab the 6-foot-2 blueliner.
Selection: Cam Fowler, D, Windsor (OHL)
4. Columbus
One of the Blue Jackets' biggest needs is a talented, goal-scoring center. Unfortunately, that's not what either Central Scouting or the International Scouting Service has up and ready in the selection order. That will likely mean that the Blue Jackets need to make a move off the board and grab a player that maybe isn't ready for prime time. Not sure how that will suit this club that has plenty of pipeline talent but not enough on the roster to translate to success.
Selection: Alex Burmistrov (RUS), C, Barrie (OHL)
5. New York Islanders
This is the 10-year anniversary of what may be the Islanders' worst draft ever, when GM Mike Milbury passed over a heaping of talented players to grab Boston University's Rick DiPietro. Don't expect GM Garth Snow to let pass any talented forward to slow woes in net in this draft. One reason is that there simply isn't the same talented netminder on the board early in this draft. The other is that the team is much more in need of a talented winger or a physical defenseman.
Selection: Brett Connolly, RW, Prince George (WHL)
6. Tampa Bay
Though the Lightning could use some help at almost any position except goaltending, there's enough cash tied up at the forward position in Steve Stamkos and Vinny Lecavalier that defense might become the top priority in the opening round. There is the outside chance that Fowler could be available and if so, he's a lock. But if not, look for the Canadian blueliner Eric Gudbranson, who missed part of this season with both a knee injury and mono, to be the Lightning's target.
Selection: Eric Gudbranson, D, Kingston (OHL)
7. Carolina
2009-10 was a disappointing season for the Hurricanes after reaching the conference finals a year prior. At the trade deadline, though, many of Carolina's key players were shipped in return for draft picks, leaving the Canes with 11 picks this weekend. At this point, you have to feel like Carolina will play a numbers game and select the top available player. There's a possibility of trading away the pick, although with it being the team's only first-round selection, that would be surprising.
Selection: Nino Niederreiter (SUI), LW, Portland (WHL)
8. Atlanta
By the time we get to the eighth selection in this year's draft, it becomes a crap shoot. Atlanta, as almost every team we've mentioned thus far, has massive needs. This is a team with plenty of free agents, so the progress in discussion come draft day may dictate its decision.
Selection: Brandon Gormley, D, Moncton (QMJHL)
9. Minnesota
The Wild's need is simple — find a player who can score. Drafting at No. 9 isn't likely going to bring a short-term solution, but the ability to grab a quality forward is something that will do for the time being. Developing players is something this team has proven it's willing to do, selecting Nick Leddy a year ago (even though it ended up trading Mr. Hockey to Chicago earlier this season). In my opinion, though, this could be the best shot for a collegian to go in the top 10.
Selection: Nick Bjugstad, C, Blaine (Minn. High School)
10. New York Rangers
The Rangers' painful end to the regular season, in which they missed the playoffs on the final day, is probably a little to fresh in the team's head. But with one of the highest cap impacts from payroll in the NHL, today isn't really a worry for the Rangers. This is a team that will likely be looking two to three (or more) years down the road when it selects.
Selection: Mikael Granlund (FIN), C, KIFK (Finland Elite League)