There were plenty of names tossed around as to which collegian would be the first to walk to the podium in the opening round of Friday's NHL Entry Draft. But it was the less thought of birthday boy, Jaden Schwartz, who got his ultimate wish.
Related link: Video interviews from the first round of the NHL Entry Draft
Schwartz, who will play next season at Colorado College and originally ranked 28th by NHL Central Scouting, surpassed a number of higher-ranked collegiate players to emerge as the 14th overall selection by the St. Louis Blues.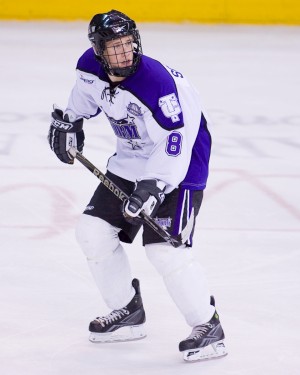 He led a near-banner day for college hockey as nine incoming or current college hockey players were first-round selections. That total is just two shy of 2007, when 11 players with collegiate ties were selected in the opening round.
It was a bittersweet moment for the top selection, Schwartz, who celebrated his 18th birthday on Friday. Schwartz's sister, Mandi, has a story that is perhaps better known that her brother's. Mandi is battling leukemia, and the story became a national one recently as the Yale player searches for a bone marrow donor.
"It's a very special moment for me and my family," said Schwartz. "Mandi's back in Regina in the hospital. I just want to say hello to her and that we'll see her soon. She means a lot to us."
The jump in the rankings was a bit of a shock to most — including Schwartz, who said he wasn't really prepared to hear his name called when it was.
"I wouldn't say I was 100 percent ready," said Schwartz. "I was waiting and waiting. There were a lot of predictions and I was just hoping for a first-round birthday gift."
Schwartz was the first U.S. college player to reach the stage but he wasn't the top American. Goaltender Jack Campbell, who had committed to play at Michigan before changing his mind and heading to Major Junior, was the top American player selected, going to the Dallas Stars with the 10th pick. Cam Fowler, who many thought could be a top-five selection, dropped all the way to 12th when Anaheim selected him.
Though lower that many hoped the first collegian would be picked, not surprisingly, Schwartz's selection opened the floodgates for collegians.
Immediately after Schwartz, North Dakota freshman-to-be Derek Forbort, the highest-ranked collegiate skater according to Central Scouting, was selected by the home team, the Los Angeles Kings. The Kings, in fact, traded up to get Forbort, swapping picks with Florida to move from 19 to 15.
After Forbort, college hit its superfecta with four straight selections from 19 through 22. Minnesota freshman-to-be Nick Bjugstad, who many thought would be the top collegian, was picked 19th by Florida. Beau Bennett, who will play for Denver in the fall, was selected by Pittsburgh with the 20th pick. Notre Dame's Riley Sheahan was picked 21st by Detroit and his future teammate Jarred Tinordi, originally ranked 38th by Central Scouting, made a huge jump to No. 22, going to Montreal.
"It's an honor for sure," said Bennett, who was selected by the Penguins in his home state of California. "To share this with my family in California is unbelievable."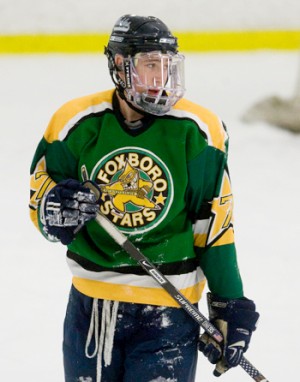 Bennett was able to meet who he hopes is one of his future teammates and his idol, Sidney Crosby.
"That was awesome," said Bennett. "You watch this guy win a gold medal for Canada and now you're meeting him and going to the same organization as him."
Notre Dame's incoming freshman Tinordi, who made the largest leap among collegians on Friday, said he was overwhelmed with the selection.
"I don't really know what to say. It's probably the best moment of my life, so it's pretty exciting," said Tinordi. "I made a visit [to Montreal] and I thought that went very well. Talking to my advisors, I knew they were very interested."
Three additional collegians made their way to the stage before the day ended as Boston College freshman-to-be Kevin Hayes was selected by Chicago with the 24th pick, Boston University incoming freshman Charlie Coyle went 28th to San Jose and Brock Nelson closed out the opening round as the 30th selection of the New York Islanders.
Now the question will turn to how long these players will last. Notre Dame coach Jeff Jackson, who has significant stake with two first-round picks in Sheahan and Tinordi, said he doesn't mind a player leaving early if he's ready to go.
"I'm extremely excited for both of them going to two Original Six franchises," said Jackson. "The draft is only the first step for them getting there. They have a lot of work to do to prepare themselves to play at the National Hockey League level.
"If they're ready [to move to the NHL], I'm good with it. I hate to see guys sign early if they're going to go play in the American League for several years. It really hurts college hockey. College hockey as done such a great job in the last 15, 20 years as far as developing professional hockey players. The more we dilute it the less we're going to be developing players. So I hope the National Hockey League works with us to try to make sure we keep the best players there until they're ready. When they're ready, nobody in college hockey is going to hold them back if they're ready to step in and play."