What could be a better birthday present than getting picked in the first round of the NHL Entry Draft? Not much, for a young hockey player at least. Jaden Schwartz is the 18-year-old birthday boy who got his wish Friday when his name was called 14th overall by the St. Louis Blues.
The Melfort, Saskatchewan, native, who will be attending Colorado College in the fall, was the first collegian drafted. It was somewhat of a surprise since he was sitting in the 28th spot in the Central Scouting rankings, below eight other NCAA-committed players.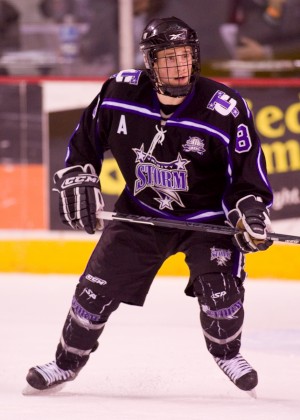 "It's a very special moment for me and my family," Schwartz said with a big grin on his face. "Waiting up there, hopefully getting picked in the first round. I didn't know where I was going to go, and my heart was racing. It's my birthday, so it's a very special gift for me. I couldn't be happier to be going to an organization like St. Louis.
"I know the rankings at the end of the day are just predictions; you can't let it bother you. You never know what's going to happen. I think there are a few surprises already in the draft. If I'm one of them, then so be it. It's a number at the end of the day, and I'm looking forward to the hard work and the fun work I have to put in to make it to the NHL."
Our lives are made up of a few defining moments, and the Schwartz family sure knows that. Friday was a good one, but in December 2008, a life-altering moment occurred when Jaden's older sister, Mandi, a Yale hockey player, was diagnosed with acute myeloid leukemia.
Schwartz's parents were able to make it to the Staples Center, as well as his brother, aunt, uncle, and family friends. Mandi, however, is back in Regina, Saskatchewan, with her fiance and grandmother.
"She's going to go to Seattle for a bone marrow transplant soon, so she couldn't make it out to LA with us," Jaden Schwartz said. "She's doing chemotherapy right now. I want to say hello to her because I know she's watching. We'll see her soon, and she means a lot to every single one of us in the draft, and this is for her."
The Schwartzes grew up a tight-knit clan, bound together with love for each other and a common passion for hockey.
"My family had a huge passion for the game," Schwartz said. "I started playing right away, watching my brother and sister play hockey, and I wanted to join them. They are a big part of the reason why I play hockey and where I am today."
Growing up, Schwartz and his two older siblings always played street hockey and mini sticks in the basement. Their father, Rick, would build an ice skating rink in the backyard, and they'd always be out there.
"Behind in our backyard, and out on the pond every day, whether it was 20 below or 30 below, we'd be out there dressed up," Schwartz said. "So that is one of the biggest memories as a kid. Going down to the rinks in Saskatchewan were big memories for us, too."
Schwartz most recently played for the Tri-City Storm of the USHL. The league's forward of the year captured the scoring title with 83 points (33 goals, 50 assists) in 60 games. That's the most points by a USHL player since Thomas Vanek, and Schwartz is the youngest player to lead the USHL in scoring since 1983.
But hockey accolades aside, education is also an important factor in the Schwartz household. Jaden's brother, Rylan, just completed his freshman year at Colorado College, and Mandi is enrolled at Yale.
"Education is important to me," the modest 5-foot-10, 180-pounder said. "My parents are big on education, so that was a big reason why I'm going [the NCAA route] too. Hockey is going to end one day for everyone, so it's always good to have an education there, too."
The Schwartzes took a family trip to Colorado a few years ago because Rick wanted to introduce them to the WCHA and college hockey in general.
"I felt like I fit in there at Colorado College," Schwartz said. "I liked everything about it. I think they need a young, small guy like me with my vision. The biggest thing to work on is my strength. I feel like in development, college hockey is very, very good. I wanted to make sure I had time to develop. I trusted the coaching staff. I liked the intensity of the way they play, and the training is going to help. And I like the speed of college hockey, as well."
He added, "I actually didn't see a college game before I went to Colorado College. Growing up in Canada, you don't get to see the college side of the game. I was very happy I got to do that and see both sides. I felt like it was the best choice for me."
It's hard for anyone to know exactly what the Schwartzes are going through unless you've been though it yourself, but the hockey community across the nation has played an active role in helping support the family in their time of need. Doctors said Mandi has until September to find a stem cell donor, and the media is getting the word out.
"I think the support really, really helps," Schwartz said. "With Mandi going through that, it's always tough. My parents' moods kind of reflect on how Mandi's doing, and that kind of reflects on me and my brother's moods, too. So it's tough. When you have that support there and everyone's helping out and doing fundraisers, and all the swabs of people involved to sign up for the registry to find a match, that's helping. With the Ukranian, German, and Russian background we have, it's pretty tough to find the right donor. But with more and more people, there is a better chance. It's going to pay off. It means a lot to us what everyone's doing."
The unfortunate circumstances have clouded the Schwartzes' minds with worry and fear, but also hope. Your family makes you who you are on the inside and out, and sometimes sticking together can be one of the best remedies.
"She just means the world to me," Schwartz said. "She's the best sister I could ask for. She's been close to me her whole life. It's not easy not having her here. But I know she's very proud; I'll give her a call tonight."
As Schwartz's 18th birthday came to a close as a new member of the Blues organization, there wasn't much more to wish for when blowing out those candles. Well, on the other hand, maybe there is one thing.
"Today was definitely something special for me," he said. "But the biggest birthday gift would really be for my sister getting through this bad time and living a long life ahead of her."