Coach Rand Pecknold has signed a contract extension at Quinnipiac that runs through the 2014-15 season, the school announced Monday.
Terms were not disclosed.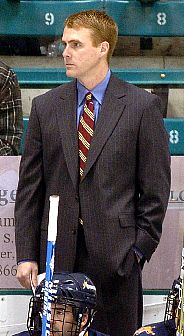 "I'm very excited with my new contract extension," Pecknold said in a statement. "I look forward to another five years at Quinnipiac, and hopefully beyond. I'm thankful to President John Lahey, Vice President Mark Thompson and Director of Athletics Jack McDonald for the resources and support that have made Quinnipiac successful. I'm very excited for the upcoming year at the TD Bank Sports Center."
Related link: Rand Pecknold's coaching history
The extension comes on the heels of a season in which the Bobcats were ranked as high as fourth in the USCHO.com Division I Men's Poll.
Quinnipiac started the season 12-1, but won only one of its next 14 games. The Bobcats earned home ice for the first round of the ECAC Hockey playoffs and defeated Dartmouth. They lost at Union in the second round, a series that started with a 3-2 Quinnipiac victory in five overtimes — the longest game in college hockey history.
Pecknold has a 301-201-47 record in 16 seasons as Quinnipiac's coach.
"Rand and his staff continue to elevate our men's ice hockey team to national prominence," McDonald said. "I am pleased that he will continue to guide the program to be successful on the ice and in the classroom while also making an impact in the community."