Kristen Cameron, an assistant coach at Mercyhurst, was listed in critical condition Monday after she was hit by a car while riding her bicycle on Sunday, the Erie Times-News reported.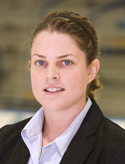 Cameron, 25, is in her second season on the Lakers' coaching staff.
According to the newspaper, citing police, Cameron was hit in Summit Township, Pa., just before 7 p.m. Sunday. Allen Peters, 49, of Erie, Pa., was arrested at his home on Sunday and arraigned on Monday on 14 charges, including aggravated assault by vehicle while driving under the influence.
Cameron was a first-team All-American during her four seasons at Bowdoin, then spent the 2008-09 season as an assistant at Castleton State.