We're in another year and we've got a new-look everything. New-look league, new-look USCHO and new-look WCHA coverage.
This year, we're following Hockey East's lead and splitting the duties. Much like Jim Connelly and Dave Hendrickson have been sharing things over there, this year, I'll be sharing this space with Tyler Buckentine. You've already read some of Tyler's stuff in the previews and already on the brand-spanking-new WCHA blog. I think he'll be a good breath of fresh air — he's younger, closer to the college scene and right in the heart of the league there in Mankato.
Starting next week, we're doing weekend recap blog posts — I'll be doing those. Tyler, as you've seen, will be doing the early week "column" blog. We'll be splitting this space right here, the traditional column, if you will. Then, before the weekend action goes down, one of us will post our separate game predictions.
So, welcome Tyler, and I hope that y'all show him the same niceness and courtesy that you've shown me. …
On second thought, just say hi and leave it at that.
That hit's a doozy
Hits to the head have garnered a lot of attention in the league over the last few years (see Aaron Marvin/Chay Genoway, for the best example). Last year, the NCAA put an emphasis on contact-to-the-head penalties, making each one warrant at least two minutes, sometimes more given the referee's discretion. Obviously that didn't always work out (see Aaron Marvin/Blake Geoffrion, Corbin Knight/Mike Connolly).
This year, they're trying it again.
"Contact to the head, the way it reads [this year] is any direct blow to the head or shoulder area, [and] is an automatic five-minute major and a game over [misconduct] or a game disqualification," WCHA supervisor of officials Greg Shepherd in this year's media teleconference call. "Now again, the referees do have a judgment; it's not zero-tolerance. The referees do have a judgment so if a player ducks and gets hit in the head with an elbow, they can still call that too or a good check where he slides up in the head area.
"But any stick, elbow, forearm, shoulder — anything of that nature that's directed at the head area is going to be a five-minute major and a game misconduct."
He goes on saying the referees are going to call this tight, something which we can only hope. Of course, this year they're saying that there isn't a zero-tolerance policy … a policy that was supposedly in place last year. And even though they did institute harsher penalties, I can't help but think we'll still see some ugly, dangerous hits this year anyway. However, Shepherd did mention something interesting that may make the players stay in line:
"We talk about half-shields; well, as long as this happens, we're not going to get half-shields in," he said.
That whole discussion, however, is talk for another day.
Welcome to our world
This weekend, the league's two newest members start their first weekend of conference play. Bemidji State opens its new arena, the Bemidji Regional Event Center, against preseason league favorite North Dakota. Nebraska-Omaha starts on the road against Minnesota at Mariucci Arena.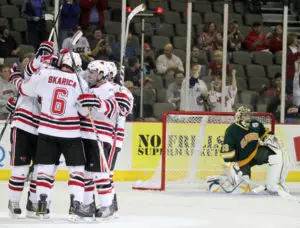 For both programs, it's a return to familiarity in terms of the coaches. From there, though, it's a little different.
The Beavers face the biggest transition, coming from a league of four teams to one of 12.
"It's always been a league that you better be ready to play every night," coach Tom Serratore said. "That's going to be the key for us; every Friday and Saturday night now, 28 games, we're going to have to prepare ourselves."
Not that the preparation will be the worst thing; from the sounds of things, it seems like Serratore is looking forward to a wider range of opponents.
"We were playing teams in the CHA six times, each team six times the last couple years and that gets extremely old," he said. "We're going to have to be prepared to grind it out week in and week out, and that's going to be the telltale sign of our hockey team."
He mentioned that the transition was going to be easier for the Mavericks (yes, we now have two Mavericks to go along with the two Huskies), given that they played a 28-game CCHA schedule.
It's still early, but the transition is already off to a nice start, as two Mavericks (the UNO kind) already have been named WCHA players of the week — Matt White shared rookie honors with Michigan Tech's Milos Gordic while goaltender John Faulkner got the nod for top defensive player.
So, what should Minnesota fans look out for? Here's how Dean Blais describes his team.
"I hope [we're] fast and furious. We try to play with a lot of speed and with all the rules. It's hard to get into a real physical game," he said. "I think the forwards and their speed are going to be the real success of the team. We have good size on defense, the good size maybe goes with a lack of mobility, so we've got a lot of work to do with our defensemen."
Take note, Don Lucia; that almost sounds like a scouting report for you.