Despite Nebraska-Omaha racing out to the best start to a season in the history of its program, the most telling moment of the Mavericks' current season to date may have come on a night when UNO didn't win.
Three nights before the Mavericks reached No. 4 in Monday's USCHO.com Division I Men's Poll, the program's highest-ever ranking, UNO started out its second-ever WCHA road series on Friday night with a 3-0 whitewash of homestanding St. Cloud State. The victory made it nine played, eight won for the Mavericks at the start of coach Dean Blais' second season at the helm in Omaha.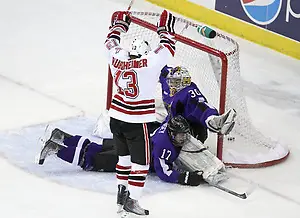 The Huskies haven't been swept at home at the National Hockey Center in three years, though, and SCSU keeping that streak intact with a hard-fought 4-4 tie the following evening proved a major point of frustration for the Mavericks.
Trailing 3-1 to SCSU after just past the halfway point of Saturday's rematch, UNO roared back, eventually taking a 4-3 lead with freshman forward Ryan Walters' fourth goal of the season at 8:17 of the third period.
The Mavericks looked poised to give Blais his first 9-1 start as a head coach since leading North Dakota to an even hotter beginning in 2002-03, but, with Huskies goaltender Mike Lee pulled in favor of a sixth attacker, SCSU junior forward Travis Novak restored parity for good with 1:04 left in regulation.
Describing the atmosphere in the dressing room after the game, Blais painted a picture of a team down on itself not because of a loss but because of something that's becoming increasingly rare for UNO: the proverbial one that got away.
"We had a couple of guys in the room that were almost crying after that game," Blais said, "Because we'd had a 4-3 lead, and usually we win those games. But don't forget, we came from behind to take that lead. That's a hard thing to do in St. Cloud with an All-American, [World Junior Championship] gold medal-winning goaltender in Mike Lee in your way.
"When we're down two goals a building like the National Hockey Center, and St. Cloud's not used to losing there, and we come back and take the lead, that's a heck of a comeback. We would've been happy with a split on the road, but when we got ahead on Saturday, we weren't that far away [from a sweep]."
Such defiance speaks to a heightened sense of bravado in the Mavericks camp since second-year athletic director Trev Alberts and Blais arrived on the UNO campus in the spring and summer of 2009, respectively.
The program's first coach, Mike Kemp, launched the program in 1997 and led the team to its lone NCAA tournament appearance in 2006.
However, for as much success as Kemp had with the Mavericks in their relative infancy in college hockey, Blais, Alberts and Co. have revolutionized the way the program operates — both on and off the ice — for the better.
But where did the Mavericks' renaissance begin?
The genesis
Amateur sports have always been king in Nebraska, but UNO's teams have long played second fiddle to those at Creighton within Omaha and at Nebraska in Lincoln — some 60 miles down the road — without.
After being named UNO chancellor in 2007, Dr. John Christensen wanted to change the way the Omaha area looks at UNO athletics, and in April 2009, it was announced that Alberts, a Nebraska football legend and ESPN college football pundit — a man with zero administrative experience at the university level — was to become UNO's new AD.
The move sent shock waves throughout the local sporting community, but widespread mistrust of previous UNO administrators had left many, including Omaha World-Herald sportswriter Chad Purcell, feeling that a new face and a new approach in the AD's office — no matter how untested — was needed.
"I was never one of those people saying that [Alberts] has no business doing what he's doing," said Purcell, who has served as the World-Herald's UNO hockey beat writer since the start of the 2005-06 season, "Because, A, the people who were holding that job previously, in my opinion, kind of had a history of incompetence, and, B, he had such a well-known reputation with [Nebraska] football where you knew that that was going to carry a lot of weight in this town, and you can't underestimate that.
"Combine his athletic background, then, with his sense of motivation and ability to think, and you have a pretty good combination."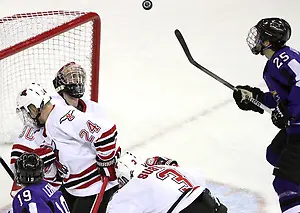 Alberts answered those who questioned his administrative acumen two months after he took office by hiring Blais, who led North Dakota — UNO's opponent at Qwest Center Omaha this weekend — to national championships in 1997 and 2000. Blais left North Dakota in 2004 to become an assistant coach with the NHL's Columbus Blue Jackets before going on to coach the USHL's Fargo Force between 2007 and 2009.
Blais also agreed before coming to UNO to coach the United States in last winter's World Junior Championship in Saskatchewan, where the U.S. won gold.
"When I first got to UNO, it didn't take long for me to realize the importance of hockey to our entire athletic department," Alberts said, "And when you have a Division II athletic department with one Division I sport, that sport is your [main] revenue generator, and we needed to leverage hockey. The market in Omaha had clearly spoke that it would support our program, and it helped that we'd accomplished great things early on with Mike Kemp as our head coach.
"Our vision was to continue to build the program and to win a national championship, and when we set out to find [Kemp's successor], we were looking for a coach that could ultimately get us to where we are now, and we were looking for a big-name guy with a proven track record.
"If you've done something before, it's reasonably fair to assume that it might happen again, and the fact that Dean had won five conference championships in 10 years and two national championships at North Dakota, that clearly showed me that he was a coach that understood what it took to win at the highest levels."
Blais, whose hiring was nearly as big a news story in Omaha as Alberts', had never considered coming to Omaha to coach before being contacted by UNO, but he said he was swayed by favorable conditions that had been put into place by UNO's still very new administration.
"Just like with Trev, I'm surprised that I came here, too, because I didn't want Cornhusker football to override anything we were going to do, and it hasn't," Blais said. "Trev has given us every opportunity to succeed, and that's what I looked for right away: Here's what [the athletic department] can do for coaches, here's what we can do for your program, and it started right with Trev, and he paved the way for us."
Blais' first season at UNO started off somewhat slowly, with the Mavericks sitting only one game above .500 at 2009-10's winter break, but the team's play picked up considerably in the second half. The Mavericks bounced back to clinch home ice in the first round of the playoffs in their final year in the CCHA and won there before falling in the second round at then-No. 13 Ferris State.
UNO'S form in the second half of last season has clearly carried over into the current campaign, and the Mavericks' 8-1-1 (5-0-1 WCHA) start, has given more evidence for the argument that Blais and his teams' system on the ice are a good fit in Omaha.
"You always hope to be on a team like this, a team that competes every night," said senior forward Rich Purslow, the Mavericks' leading scorer with four goals and 14 points. "You can't ask for more than that. The boys work hard every single game, and it's just fun. Every practice and every game is fun because we're working hard and winning and just doing the right things.
"Hockey's still the same game under Coach Blais as it was under Coach Kemp, though, because it's the same sport no matter what league you're playing in, and it doesn't matter who we're playing — we just try to play our game. Hockey's a simple game, and if you play it the same way every night, hopefully good things will happen, and they have been lately."
Giving reasons to cheer
When UNO's hockey program began, its games at the Omaha Civic Auditorium — which the Mavericks left for Qwest Center Omaha in 2003 — were the events du jour for Omahans looking to see and be seen. If the Blais revolution continues at speed, the Mavericks bandwagon could see its number of passengers go up exponentially.
The hope this time around, though, is that Omaha is now enough of a hockey-savvy town that UNO games will be less a haven for wandering social butterflies and more a gathering place for fans that appreciate the kind of game Blais' teams play, even if the performances have come as something of a surprise to the coach.
"We absolutely weren't expecting this much success so early this season," Blais said. "To be 8-1-1 after having gone into Minnesota, into [Michigan] and into St. Cloud, where they haven't been swept at home in three years, you couldn't really get three tougher places to have to go play in and still come out with the record we've got.
"But what we've accomplished here doesn't happen by accident, and what we've accomplished is why I'm here. We're here to win a national championship. It could've happened last year, and it might happen this year. I still really think it might happen."
Alberts didn't make any such prognostications, but he said he's always felt that the hockey program under Blais' control is sufficiently equipped with the right mentality to go on and reach such dizzying heights.
"I remember early on chatting with Dean about Nebraska and Omaha and I think it's [generally] a Midwestern thing, but it's even more important here in Nebraska that our fans want to win," he said, "But what's even more important is how you play. How you approach every shift. How you approach every time you step on the ice.
"If you have a hockey team that is doing everything it can for three periods, our fans in this community will support you, but the minute it looks like you're disengaged or uninterested in success, they can't identify with that, and I appreciate that. It holds you accountable, and we want coaches and players with that passion for being great, and the community will support that. It has in the past, and I think it still will going forward."
Purcell echoed Alberts' sentiments. "The biggest mark Dean's made on the program is the level of the belief he's created among the team," Purcell said. "They have talent, and he's still working largely with a roster of players that Mike Kemp brought here, including a couple of the rookies, but he just has that level of belief built into all of them where he wants them to be confident, to believe that they can compete with any team they come across.
"That goes a long way when you can get a whole team buying into that."
UNO's schedule only gets tougher now, including this weekend's series at home against No. 8 North Dakota, which is sending at least one fan bus to see their Fighting Sioux take on one of their program's several legendary former coaches.
Six of the Mavericks' next eight games after the UND series will be on the road, and almost all against WCHA opponents, with games at Bemidji State, Michigan Tech at home, at Colorado College and at Quinnipiac for a non-conference set.
It's that long haul, including the UND series, that will solidify whether this UNO team will be a formidable force this season, and Blais warns that those schools had better be more prepared to play UNO than some of the Mavericks' earlier opponents may have been.
"I was thinking before: Are we lucky? Are the other teams not giving us credit, or are we just good with these players?" Blais said. "That's what you ask yourself in our situation: Whether nobody's taking us seriously in the WCHA.
"Minnesota, were they not really ready to play us? Minnesota State came here, but were they tired because they'd been to Alaska the weekend before? Then you have to look at St. Cloud, too, and we took three points there. St. Cloud was picked to finish third in the WCHA, and we went in there and beat and tied them.
"I think [SCSU is] for real, but now can we get to be as good as our team last year was by the end of the year? I don't know. We're starting a lot better because we've had carryover [from last season], but now can we get to the point where we're the top team in the country? We'll see after Saturday, because we might be playing the best team in the country this weekend."
As for the visiting Fighting Sioux, Blais knows that UND coach Dave Hakstol will have his squad prepared for battle.
"If teams aren't taking us seriously, it's their fault," Blais said. "If they question themselves after a Friday night loss or a Saturday night sweep, then it's their problem. We'll just play the same way. We don't really change. It's just nice for us to go out with the confidence that the other team had better be ready to play us, or we're going to beat them.
"North Dakota will not overlook us, though, because Dave Hakstol and his staff know what we are. They're not stupid. They know by now. They're ready."