There is a new player on the women's college hockey scene, North Dakota, but its leading faces are familiar ones.
Led by sophomore twins and Grand Forks, N.D., natives Jocelyne Lamoureux and Monique Lamoureux-Kolls, who transferred back home from Minnesota, the Fighting Sioux have stormed into the national tournament picture.
"We thought by transferring back home that it was an opportunity to kind of put the Fighting Sioux on the map," Monique Lamoureux-Kolls said. "We saw it as a challenge and an opportunity for us to really put a stamp on the program."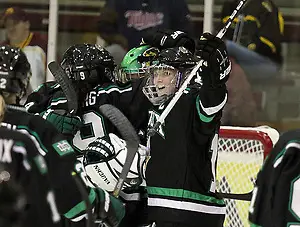 And put a stamp they have. At the December break, North Dakota (9-7-2, 8-6-2 WCHA) is ranked ninth in the country and currently sits in third place in the WCHA with 26 points. It is unfamiliar ground for a program that has never won more than 13 games or finished higher than sixth since joining the league in 2004-05.
"Coming back here was a special opportunity for us," Jocelyne Lamoureux said. "Knowing where coach [Brian] Idalski wanted to take this program, we felt like we could play a big part in the turnaround."
That turnaround started after the ultimate low point for the program during the 2006-07 season. That year, the Fighting Sioux hit rock bottom, making a coaching change mid-season and finishing with zero WCHA wins.
North Dakota's instability made the Lamoureux twins' original recruiting choice an easy one, despite the urge to play for their hometown school.
"When we were making our initial decision, we were looking at Minnesota and Wisconsin," Jocelyne said. "North Dakota wasn't in the mix because of the transition the program was going through and [the unstable] coaching situation. It wasn't where we wanted to be with our goal being to try to make the Olympic team after our freshman year."
As freshmen at Minnesota, the twins led the Golden Gophers to a first-place finish in the WCHA in 2008-09. Jocelyne and Monique finished one-two on the team in scoring with 75 and 65 points, respectively.
Meanwhile, back at Grand Forks, Idalski began sowing the seeds of a philosophical shift during his second season coaching North Dakota.
"We really tried to change the way we approached everything," said Idalski, who guided the Fighting Sioux to a 13-win campaign in 2008-2009. "We brought in a bunch of character kids who had a very solid work ethic, but we still needed to get a couple of elite players to buy into what we were trying to do and to buy into North Dakota as a program."
Idalski's changes were enough for the Lamoureuxs to take notice. As they were busy earning spots on Team USA during the summer of 2009, the twins made the decision to take their games back home.
"We hadn't really thought about [transferring] until we got home for the summer," Monique said. "It wasn't like we were unhappy at Minnesota, but we thought that we needed a change."
That change was for the twins to head back to school where their family has had an incredible dynasty. Father Jean-Pierre played for the Fighting Sioux from 1979 to 1982. Monique and Jocelyne's oldest brother Philippe played at North Dakota from 2004 to 2008. Finally, brother Mario, who is a year older than the twins, is a junior forward on the Fighting Sioux men's hockey team.
Therefore, Monique and Jocelyne took some good natured ribbing when they originally chose rival Minnesota instead of UND.
"When we were at Minnesota, our brothers were happy for us, but they would poke fun at us a little bit," Jocelyne said. "[However,] I think it was a surprise when one of us had the opportunity to come back here, that we both decided to make that choice to play for the Fighting Sioux."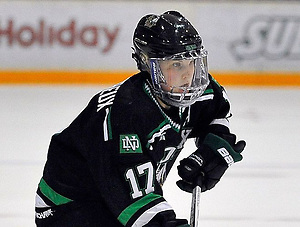 The choice has been a productive one so far for the twins, who each rank in the top 25 in the country in points. Jocelyne leads the Fighting Sioux with 16 goals and 24 points, while Monique leads the team with 13 assists and is second in points with 21.
Idalski has been pushing the pair to play at a level that will make his whole team improve.
"From day one when they got here, they've led by example with their work ethic and their tenacity, but they're also not afraid to be coached or to be given ways to get better," Idalski said. "During games they draw the attention of other teams, freeing up some of our other kids to face better matchups and be in situations where they can thrive."
And thrive North Dakota has, despite a schedule that featured the country's toughest start with an opening six-game stretch that featured Boston University, Minnesota-Duluth and Minnesota. The Fighting Sioux beat current No. 3 Boston University, swept No. 7 Minnesota and now have two wins over No. 5 Minnesota-Duluth.
"We knew if we could come out of those six games at least at .500, we would set up ourselves pretty good for the rest of the season," Monique said. "Playing that at 4-2 really surpassed many people's expectations and I think people are starting to see that our team is really on the upswing."
That upswing allowed the North Dakota women's hockey program to start getting noticed in a place known for its tradition and success in college hockey, but only on the men's side.
"The men's program has had a winning tradition forever, but it's good to see that the women's team has turned the tide," Mario Lamoureux said. "They want a winning attitude as well. They don't want all the glory here to be only about the men."
Trying to establish that level of success with the women's program is a challenge Monique Lamoureux relishes.
"[Growing up here in Grand Forks], you can see that tradition and the pride that everybody takes with the men's team," Monique said. "We want to help build that with the women's team. We want to add to that North Dakota hockey tradition and play well for what it stands for."
Jocelyne Lamoureux is just proud wearing the Fighting Sioux uniform, the one with the familiar last name on the back.
"When you grow up in Grand Forks, you see that the community here is all about the hockey program here at North Dakota," Jocelyne said. "The Fighting Sioux name and the school's hockey tradition is something special. It means a lot to put that jersey on every night."