Hamline senior defenseman Chris Berenguer admits his last season is turning bittersweet.
First, there's a sense of accomplishment of being a cornerstone in the school's hockey resurgence under six-year coach Scott Bell. Then the two-time All-American realizes his prolific collegiate career is drawing to a close.
No. 12 Hamline (6-3-1, 3-0-1) was a preseason favorite to win the highly competitive MIAC. Berenguer is eager to make the prognostication a reality.
"I'm loving every minute of it so far," said Berenguer, who has five goals and five assists for 10 points in nine games this season. "We're very limited in terms of the amount of games we have.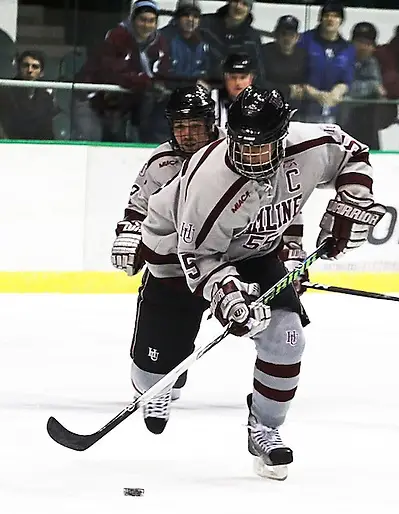 "So, I'm trying to  have as much fun as I can every day when coming to the rink."
In the past four years, the highly decorated 6-foot-2, 205-pound rearguard has matured on and off the ice. During his sophomore season, he married his girlfriend, Nicole Larson.  A daughter soon followed.
Since then, Berenguer's adroitly juggled parental duties, school work (he's a double major in business management and accounting) and a stellar collegiate hockey career.
Typical day
The senior's typical day starts at 7:15 a.m., with breakfast and time with 19-month-old daughter Stella before embarking on a 45-minute commute to Hamline's St. Paul, Minn., campus.
After attending three classes, he heads to the rink for an hour-and-a-half afternoon practice. He arrives home about 6 p.m., has dinner and plays with Stella until her bedtime at 8 p.m.
Berenguer hits the books for a couple of hours until 10 or 10:30 p.m. He and Nicole spend an hour together before heading to bed, only to repeat the process eight hours later.
"It's a lot, I guess," said Berenguer, 25.
Such responsibility once would have been unthinkable for Berenguer, who  conceded he "liked to have a good time." Then he met his future wife.
"She is my rock," said Berenguer about Nicole, who he met seven years ago when she used to cut his hair. The couple celebrates their second anniversary in February.
Stella's arrival transformed their lives, he said.
"I just try to make sure I do everything well and everything right, so I can provide for not only her but my wife," he said.
Pro stock
His father, Juan Berenguer, provided for his family by pitching for 15 years in the Major Leagues, including pitching for the 1984 Detroit Tigers and 1987 Minnesota Twins World Championship teams.
Coincidentally, his father's Tigers teammate, Dan Petry, also has a collegiate hockey-playing defensive standout as a son. Jeff Petry, an Edmonton Oilers draft pick, starred at Michigan State from 2007 to 2010 and plays with the AHL's Oklahoma City Barons.
Berenguer (Sioux Falls) and Petry (Des Moines) played against one another as juniors in the USHL. Both were selected to play in the 2005-06 USHL All-Star Game, where they talked about their shared backgrounds, Berenguer said.
Despite his Major League lineage, the younger Berenguer didn't feel pressure to follow his dad into the diamond game.
"I think he kind of knew baseball really wasn't my passion," said Berenguer, whose parents are Karen and Jerry Martin, as well as Juan Berenguer. "I enjoyed it, but not nearly as much as I enjoyed hockey."
Like his father, the younger Berenguer wants to pursue a pro career in his chosen sport. Undrafted, he plans to try out for a minor league team as a way to gain entry to the NHL.
Berenguer attended a Chicago Blackhawks prospect camp last summer where he received some positive feedback. He's known for his wicked shot from the point and skating ability.
His off-season regimen will include a cardio-based program to increase leg power and speed, "so I can keep up with the guys who are faster than me," he said.
Reality check
His family supports his post-collegiate plans. The husband and father is realistic, though.
"If you are doing something like that, it has to be able to pay bills," he said. "If I can I do it and it can support our family, that would be great.
"If not, it's to the workforce."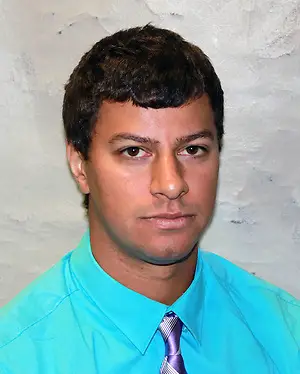 The road from Division III college hockey to the NHL is not well-traveled. He harbors no regrets by going the D-III route.
Initially, Berenguer was committed to D-I Northern Michigan, but encountered a snag during the NCAA Clearinghouse process.
Rather than wait to be eligible to play at NMU, he enrolled in Hamline and joined the Pipers midway through the 2007-08 season. In 18 games, he still scored four goals and 12 assists for 16 points  and landed on the MIAC All-Rookie Team.
As a sophomore, he led the team in scoring with 14 goals and 25 assists for 39 points while earning first-team All-American and All-MIAC honors. Next season, he became the first two-time All-American at Hamline while scoring six goals and adding a team-leading 22 assists for 28 points.
"He's the best player in the school's history," coach Scott Bell said. "It's nice to have him here. It makes me a better coach with him on our team, that's for sure.
"He's poised, in control, he's confident — all those intangibles — and he's very talented."
Berenguer also leads by example.
After a 4-1 loss to No. 7 Adrian Nov. 27, the defenseman stood outside the team's locker room with ice packs strapped to both shoulders. He remained upbeat despite the prospect of a 10-hour and 632-mile bus ride back to St. Paul, Minn., ahead.
Of course, the beaming 19-month-old daughter ready to greet him at the end of that arduous journey takes the sting out of any hockey setback.
"When I come home, she will come running to the door screaming and gives me a big hug," he said. "Everything is good after that."