A little over a year ago, the college hockey commissioners banded together to create an independent organization to market college hockey to both potential student-athletes and the general public. In doing so, they sought out the services of Paul Kelly, a Boston-based attorney who most recently had served as the executive director of the National Hockey League Players' Association.
USCHO recently sat down with Kelly for a one-year check in, to see the progress he and his organization, College Hockey, Inc., made on behalf of the 58 Division I men's ice hockey programs. Below is the conversation, in its entirety, as Kelly talks about issues including how he's reaching potential college hockey players, his thoughts on expansion and conference alignment (including the future of Alabama-Huntsville), the increased number of players leaving NCAA programs early to sign professional contracts and the hamstringing NCAA rules surrounding major junior hockey.
Jim Connelly, USCHO.com: After one year, what are your thoughts on where you've taken this organization?
Paul Kelly, College Hockey, Inc.: We started from the ground up. The organization didn't even exist on paper when we stepped in December of last year. We've actually created something from nothing. The fact that we now have some name recognition in the industry, an office, a staff and all the necessities to carry out our mission, that's probably the first step that was important to us.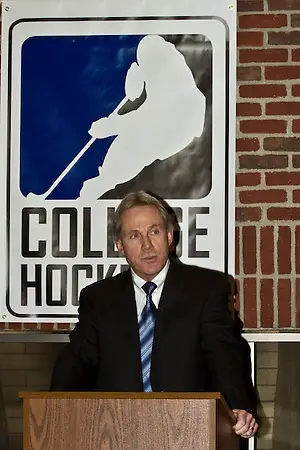 What we're most proud of after our first year is that we've been able to reach probably more than 2,000 elite young players from across the continent in a series of what we call "forums" or "summits." We've traveled far and wide to get the message out about college hockey, the benefits of playing college hockey and the opportunity to answer questions about recruiting and scholarships to kids from three or four dozen major cities across the United States and Canada.
I thought it would take us a couple of years to see the results of that effort but we're starting to see the results earlier. We're hearing from not just the colleges, but also the prep schools as well that they've seen a real spike in the number of applications and the levels of interest from elite young players, particularly from Canada, expressing interest in pursuing the NCAA track.
JC: What would you say are your top three accomplishments in the first year?
PK: Our first is the reaching out to kids, like I just mentioned. We've done that and will continue to do that to a larger degree than we did in year one.
We've also been involved in helping promote and market the sport in a number of ways to help to create some new and better special events. We were involved in the Big Chill event in Ann Arbor. We were responsible for the Ice Breaker event. We're working closely with USA Hockey to plan additional events. We're currently talking about putting together an All-American event comparable to the McDonald's All-American basketball tournament for elite young players in the 15-year-old age bracket as well as the 18-year-old age bracket.
Third, we've been working with a number of schools that have expressed the interest in taking the step up to Division I hockey. We were involved with Penn State over many months and we are currently talking with a number of schools that currently have club hockey but are seriously looking into Division I hockey. The role we play there is kind of an information resource. We try to gather information about budgets, costs, rink size, attendance, insurance, etc., and put it into a package and provide it to the schools. We talk to them about conference alignments and what it would take to get a program going. I do think that those efforts will help a few of those schools get over the hurdle and help other schools follow the Penn State approach and join the Division I ranks.
The last major area is bringing more attention to the sport. We can do that by doing media interviews when we're in different parts of the country, using my past involvement with the NHL Players' Association to help get attention, particularly up in Canada for college hockey. We're going to try to do more of that in the months to come.
We do have a fairly ambitious agenda planned for the coming year. Last year we did roughly five major "summits," which are these big all-day events where we invite in the top kids [in an area]. This year we're planning to do 11 of these summits. We're planning to do five across Canada and another six or seven across the United States. Those take a fair amount of efforts in terms of planning with the college hockey programs and the National Hockey League and NHL players who played college hockey. We've already started to prepare to run a whole series of those starting in early April and running right through to September.
JC: You talked about Penn State and it starting a Division I program. That might help build a Big Ten hockey conference. With schools like Penn State considering Division I hockey, do you see the breakdown of the more traditional conferences to align with larger, more powerful NCAA conferences like the Big Ten?
PK: My sense, from what I'm hearing, is that the Big Ten will start a hockey conference. Whether that's motivated by their television interests or other factors, I'm not exactly sure. But I think at some point, and maybe we're talking five years down the road, but at some point I do think you will see a Big Ten conference.
My concern is that if the big schools come together to form a conference that it could leave the smaller schools in a precarious position. We don't want to leave the smaller programs that have been loyal participants in the Division I landscape over the years to find themselves on the outside looking in without a conference alignment that they can sell to their fan base.
We're such a unique sport in the sense that we have some many schools that do not play Division I in any other sport and yet they play Division I hockey. You have tiny little schools playing against massive programs — schools like Ohio State and Michigan playing against Ferris State and Northern Michigan. We're unique in the sporting landscape. We do want to add new programs but at the same time we don't want to lose any.
JC: On that note, what do you hear about the situation at Alabama-Huntsville? Is that a program that still is remaining strong?
PK: Unfortunately, we had the news recently of the sudden death of their athletic director (Jim Harris). He was such a positive moving force and a supporter for college hockey. I truly hope that somebody will step in and pick up the momentum there.
It's difficult for a school that is geographically isolated by itself down there in the southeast. People think Alabama and they think they're down on the Gulf Coast. In fact, Huntsville is not that far south. It's not a whole further south than some of our existing programs.
We are concerned that Huntsville is not left out there by itself. Our programs have been good about scheduling Alabama-Huntsville and working with them. But, ultimately, it will be in the interest of the sport and the interest of Alabama-Huntsville to be aligned with a conference at some point. Which conference that will be? It's too early to tell. They've got a great coach doing a great job in difficult circumstances and we will do whatever we can to help make sure they continue to stay strong.
JC: Is there anything you can share about programs you've had positive discussions with about future expansion?
PK: In deference to those programs, I probably need to give them time to explore it, so I prefer not. But I'll tell you that we've had about four or five additional schools seriously exploring [Division I hockey] and I think, of that group, I can easily see three of them adding the sport.
JC: How about your discussions with the NHL regarding the collective bargaining agreement and the number of college players leaving early for the NHL. What can you tell us about that?
PK: We had a really encouraging meeting with the NHL. It was a meeting both sides wanted to have. We recognized that we're two years away from hopefully a new collective bargaining agreement in the National Hockey League. We wanted to make sure we got involved in the process of the negotiation at an early enough stage so that some of the issues of interest to the colleges could become part of the dialogue there and not just be an afterthought.
It was also an opportunity to exchange views on some of the things that are working well and not so well from each side's perspective. It gave the college coaches a chance to tell the GMs and the management of the NHL the challenges that they're facing. Those challenges are in different areas. It's in retaining quality players, not losing them after one or two years. It's the fact that the sport has become younger and younger in terms of recruiting. Part of that is influenced by the age of the NHL Draft and other factors as well. It was to talk about communication issues, the concerns that the college coaches have when their players are being actively and regularly recruited during the course of the college hockey season by the NHL scouts and others. It's not just the drafted players talking to the NHL team that owns their rights but also the undrafted players. This communication picks up as the season progresses and it does interfere with some of what the colleges are trying to achieve. We're not trying to deprive the NHL teams the opportunity to communicate with the kids, but it does have to be done in some orderly, respectful manner. The coaches expressed their views on how it can and should be done and the GMs expressed their views. It was a very constructive exchange.
We met for about two-and-a-half hours and we came away from the meeting with the very firm belief that the NHL wants to take actions to help college hockey and keep it strong. As [NHL commissioner] Gary Bettman pointed out at the beginning of the meeting, the changes that they made in the current CBA were believed and intended by the NHL to be helpful to college hockey while in fact the opposite turned out to be true. Similarly now, if there are some things they can do to help, for examples building in incentives for college players to stay in school an extra year or two in terms of the type of an entry-level salary that player might be entitled to, that's something that might be worth exploring. I don't want to get into too many of the details of the things that were suggested because there is still quite a bit of discussion that needs to go on there. But the entirety of the meeting was very positive and very upbeat and everyone, on both sides of the table, left the meeting with good feelings.
We will have further meetings in the coming months and I think we will see some changes in the CBA that will be good in the college game.
JC: Going to the other side of the coin, the barrier that exists with NHL teams taking players away from the college programs is one. The other barrier you experience is that NCAA players lose eligibility if they play major juniors. Have there been any developments there?
PK: That issue came up and was raised by [former Providence athletic director and current New Jersey Devils GM] Lou Lamoriello, and he asked if it would be possible to change the current rule and allow major junior players to play [college hockey]. There was a lot of discussion about the reasons and why the rule is as it is. But there is a matter for the NCAA. Right now, USA Hockey supports the current rule as it is, as do the majority of the current Division I coaches. Not all of them, but the majority of the Division I coaches favor the existing rule that says if you play in major junior competition or sign a contract with a major junior team, you lose you NCAA eligibility. There are a number of coaches who believe that should be changed. But as I said to the NHL GMs, my personal view based on the past year of dealing with these issues, there needs to be some middle ground. There needs to be an exception. Whether it's the number of games the kid plays [in major junior] that kid should be able to retain his eligibility. If a kid realizes major junior isn't for him and decides he wants to leave that program to pursue an NCAA opportunity, it should be their right.
JC: How do you summarize your first year with College Hockey Inc.?
PK: When you're working at the professional level as I was, you don't really have an opportunity to think about what's going on below you. You know about college and you know about juniors, but I'm talking about down at the bantam and midget levels across the U.S. and Canada. Unless you have a child playing, you're detached from that. The one thing this job has enabled me to see is a much broader picture of our sport from a youth hockey level all the way up to professional and to appreciate it in a much better way than I did previously.
I particularly have enjoyed being of service to the colleges. We have a great product and up until now we haven't really done a sales job and informational job like we at College Hockey Inc. are now responsible for. I've enjoyed meeting and talking to families.
We're not in it for profit. We're in it for the right reasons — to be a resource for families and be a resource for the Division I schools because we want those programs to stay strong.