Every sports fan knows the old adage — defense wins championships.
Brian Dumoulin from Boston College is a key reason Team USA has given up just four goals in four games during the preliminary round of the 2011 World Junior Championship, winning its group and earning a bye in the medal round. Only Finland has also let up just four goals, with the next closest team being Sweden at nine.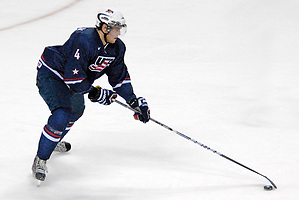 The second-round draft pick of the Carolina Hurricanes is the co-leader for the American team with a plus-3 rating, which should come as no surprise to Eagles fans who saw their defenseman lead BC's national championship effort last year with a plus-37 rating.
"Brian has been good for us," said U.S. coach Keith Allain, who also coaches Yale. "We've used basically all seven defensemen on a regular basis, and he's been in the mix and seen some power-play time. One of the things we were looking for when we picked this team was versatility. And we knew Brian was a very versatile player and can play in all situations and be effective. He's a guy we trust on the ice."
"I say I'm a two-way defenseman," Dumoulin said. "I like to jump up in the offense and obviously play on the power play, and play on the penalty kill as well. Not too over the edge on offense or defense. Try to play solid both offense and defense."
"He's been awesome," said Chris Kreider, who's also his teammate at BC. "He's playing as he always plays. He does things you wish you could do. He's fun to watch and he's fun to have."
After shutting out Germany, 4-0, Team USA had a much tougher time against Switzerland, finally prevailing, 2-1. The Swiss play a slow-down, clog-up-the-middle style of play, waiting patiently for the opposition to make a mistake, and strike on the counterattack. This puts tremendous pressure on the defense, as USA had to hold onto the slim one-goal lead for about 26 minutes.
"That's why you always have to have your head on a swivel and always be looking around," Dumoulin said. "They usually always kept a guy hanging behind us when they were slow to get back into their defensive zone, so we had to be careful of that. I think we did a very good job tonight, and I credit our offense and our defense for that."
Dumoulin constantly credits others instead of himself as he talks about his team's stingy defense: "I think it's not just the defense. It's the whole team combined, because the forwards are backchecking, which makes it a lot easier for us defensemen to keep a tight gap and to steer plays away from danger. I credit the offense as much as the defense."
Dumoulin also lives by another adage — it's better to give than to receive.
In his freshman year at BC, Dumoulin got 22 points. All but one of those points came via assists. This season, he has 10 assists and no goals in college. During this tournament, Dumoulin has registered one point which is — you guessed it — an assist.
"I'm just not a goal scorer," he said with a chuckle. "I've got to start working on my shot and crashing the net. But I tend to look pass first and worry about the shot later. But I just don't get the bounces. I just have to get the bounces like everyone else. It will come to me."
Team USA gets an extra day's rest; it will go straight to the semifinal round to face the winner of the Canada-Switzerland quarterfinal game. It's a rest the team sorely needs.
"I think it's very, very important as long as we are smart enough to use it intelligently," Allain said. "We have a couple of guys banged up and I could sense as the game was going today that we had some tired guys in the lineup, so we had to play four lines right till the end just to get fresh bodies out there. Hopefully, we can take advantage of that [extra day's rest]."
With Sweden upsetting Canada in a shootout, taking first place in Group B, the USA could end up facing their neighbors in the semifinals instead of the much anticipated championship game. However, at this stage, any opponent is going to be tough.
"Regardless of whether or not it's going to be in the finals, it will obviously be an unbelievable environment," Kreider said. "It's always a great environment when we play them. To reach our goal, we need to cross paths eventually. Regardless of when we play them, we have to be ready."
Brian Dumoulin and his fellow defensive corps will have to continue playing stingy defense if Team USA hopes to repeat as gold medalist.
When rivals unite
College hockey rivalries don't get any more intense than Boston College vs. Boston University. Those teams probably would rather beat each other than achieve any other accomplishment.
Two players have to put aside those intense feelings and work together for the betterment of their national team.
Boston College's Kreider plays left wing on a line centered by Boston University's Charlie Coyle. This line, which includes Kyle Palmieri on the right wing, has been the hottest line for Team USA, accounting for six of the 15 American goals, with each player scoring two goals apiece. Coyle leads with four assists, with the other two each notching two assists.
Do the two Boston players receive some ribbing from their teammates back home for playing "with the enemy?"
"Not really," Kreider said with a laugh. "They are all respectful of how talented Charlie is, too. They might give me a few elbows here and there when I get back. But right now, nothing really."
"Not too much," Coyle said. "It's different playing against them earlier. We're playing together now, so we turn everything aside. We're working well together."