Air Force pulled off another last-second comeback last Friday, scoring an extra-attacker goal with 0.6 seconds left to earn a tie at Sacred Heart. It was the fifth time in the last three seasons that the Falcons had either won or tied a game in literally the last second.
• Feb. 13, 2009: Mike Phillipich scores short-handed with one second left in overtime to beat Bentley, 3-2.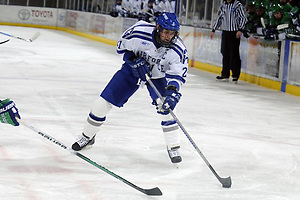 • Oct. 24, 2009: Matt Fairchild swats home the game-winner with 0.7 seconds left in overtime to defeat Rochester Institute of Technology, 3-2.
• Jan. 23, 2010: Tim Kirby is the hero, scoring with 0.6 seconds left in overtime for a 4-3 win over Holy Cross.
• Dec. 4, 2010: Jacques Lamoureux gets the game winner with 0.3 seconds left in regulation to beat Holy Cross, 7-6.
• Jan. 7, 2010: Lamoureux again, this time with 0.6 seconds left in regulation to earn a tie at Sacred Heart.
"It's crazy," said Falcons coach Frank Serratore. "It's happened too much to be just coincidence or too much to be luck. To score in the last second to win four games, one short-handed, it has something to do with the mentality of these players, the Service Academy mentality that you just don't quit."
"Frank [Serratore]'s a magic man," said Army coach Brian Riley, whose Black Knights travel to Air Force this weekend. "I don't want to be in that situation. If we are, I know I won't be looking at the clock.
"Those guys have done it so many times they expect it. It's part of their culture to not give up. As demoralizing it can be for the other team, it's very uplifting for them."
It's not just the last-second wins that contribute to the Falcons' never-say-die attitude. Air Force has come back four times this year from two- or three-goal deficits to win games. That includes handing No. 1 Yale its only loss of the season, when it spotted the Bulldogs a 3-0 lead before scoring four third-period goals to win 4-3.
I asked Serratore how far in the rear view mirror that win over Yale is, coming back on Nov. 14.
"It gives us confidence, but we've always had that," said Serratore. "We've beaten four teams in the top five over the last three years.
"Frankly, we saw what Yale did to Colorado College the night before [its game with Air Force] and they were terrifying. They won that game 5-1 and didn't get any puck luck. It could have been worse. But we're dangerous opponents to everybody.
"That's the way college hockey is. We beat the No. 1 team and lose to two teams at the other end. Anybody can really beat anybody. We know we can … we're pretty damn good."
Games of the week
Army vs. Air Force is always special. These will be the 52nd and 53rd times the teams have played, with Air Force holding a 29-19-3 advantage including a sweep in last year's AHA quarterfinals.
The Falcons have won the last four meetings at Cadet Ice Arena and seven of the last eight played there. Friday's game will be carried live on CBS College Sports.
"Army doesn't quit and we don't either," said Serratore. "It's always special and great for the fans."
Two young goaltenders will be on display, with freshman Jason Torf continuing to carry the load for the Falcons and sophomore Ryan Leets getting the starts for Army since the injury to senior goaltender Jay Clark.
"We've been fighting a lot of injuries," said Riley. "Some years you get a lot; some years you don't. Leets has been doing a good job for us and getting valuable experience. We have all the confidence in the world in him."
Honoring a hero
After Army's game with Rochester Institute of Technology on Friday, a ceremony was held to honor former Army player and captain Derek Hines, who was killed in action in Afghanistan in 2005.
For the past three seasons, the NCAA hockey commissioners have awarded the Unsung Hero Award to a player who exemplifies Hines' dedication and commitment to his team. Atlantic Hockey commissioner Bob DeGrigorio was on hand to announce that a permanent award will now reside at West Point, while each winner will receive an individual plaque. Hines' parents were on hand and were presented with a replica of the trophy.
"It belongs here," said Riley. "It's a powerful award in honor of Derek. During the ceremony you could see the reaction on our players' faces and on the RIT players. Both teams were banging their sticks in appreciation. You could see how taken in they were in Derek's story."
What it's really all about
While I was packing up the radio equipment after broadcasting Saturday's game between RIT and Army, I noticed that a good portion of the 2,400 fans in attendance had stuck around. Then, out on the ice came the Long Island Roughriders, a sled hockey team comprised of physically and/or mentally handicapped athletes of all ages. They were shortly followed by the Army team, now on sleds of their own. The Black Knights had to quickly shrug off a hard-fought 5-2 loss and play an entirely different kind of game.
The players were laughing as they got into their sleds and tried to keep up with the Roughriders. I asked Riley if it was difficult to make that kind of transition.
"The loss was obviously tough but hockey is not the most important thing in life," said Riley. "The Roughriders have faced a lot more adversity than that and they had big smiles on their faces. If you have the opportunity to do that, to make someone smile, that's special.
"That's the game of life and it makes you get over your own problems awfully quick. For us, it's a no-brainer to play games like this. We look forward to it every year.
"And this year," said Riley, "We actually scored on them. Our guys were pretty pumped up."