At the Great Lakes Invitational, I ran into John Markell for the first time since he was replaced as Ohio State's head coach. I've known John for a long time; he became head coach when I began as USCHO's CCHA columnist (known as a "correspondent" back in 1996). As I watched his career wax and wane at OSU, I always asserted one thing: John Markell is smarter than a lot of people give him credit for. My conversation with him at Joe Louis Arena reminded me sharply of this.
"The league this year," he said, gesturing, "has gone from this, to like this." Markell was holding his hands in front of him, parallel to each other about a foot apart, and as he spoke, he brought them closer together, compressing the space between them. I knew immediately what he meant.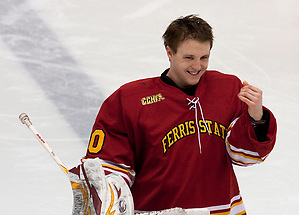 Markell is currently scouting, so he gets to watch a lot of hockey from the stands. His reasons for watching games have changed. He's no longer studying an entire team to see how to play against it when his own squad takes the ice in an upcoming game. Instead, he watches individual players, free agents too old for draft eligibility who might be of interest to the NHL — so he sees things in a very different light.
More specifically, I think he sees the CCHA for what it is.
"There's not much difference between a lot of teams," Markell told me. "Scoring is down. It's all going to come down to who's in net."
Given the hockey I've seen this season, I'd say Markell has two very good points, but wanting another take on the matter, I called Ferris State coach Bob Daniels. Without even telling him what Markell and I discussed, Daniels got right to the heart of the matter.
"I hate to say it, but college hockey is tight right now," said Daniels. "There isn't much difference between anyone. I saw Union, who's up there, and I saw Bemidji and Minnesota. I think there used to be some differences in styles between the leagues, but there's not much difference anymore.
"Watching Union play reminded me of watching the CCHA play. Same with Bemidji and Minnesota. I don't know if that's a good thing or a bad thing. Given video and other technology, there are very few surprises in college hockey. Everyone knows the X's and O's."
Daniels said that there are several contributing factors to the general parity in the CCHA, but one main thing is that there are three new head coaches, which brings a new level of enthusiasm to previously underperforming programs — something that can be a bit of a leveler. Just ask Miami.
"There's a level of enthusiasm and a changeover," said Daniels. Bowling Green, led by first-year head coach Chris Bergeron, plays "really, really hard." And Ohio State, with new head coach Mark Osiecki? "Holy cow are they good right now," said Daniels.
Lest you forget, BGSU is at the bottom of the CCHA standings, and OSU is seventh. Western Michigan is in eighth place, and first-year head coach Jeff Blashill — a former Bulldogs goaltender coached by Daniels — was just named one of hockey's most influential people under the age of 40 by The Hockey News.
"The only thing that surprises me about that," quipped Daniels, "is that Jeff is under 40. I mean, look at that hair."
Predicting who will end up where may be tricky this season, said Daniels. "It's going to be very hard to handicap it. Who happens to be trending in a certain direction at a certain time is going to be successful."
If Markell was right about it coming down to goaltending, then FSU has a distinct advantage. Senior goaltender Pat Nagle is one of the best and most consistent netminders in the nation, with the country's second-best goals-against average (1.76) and eighth-best save percentage (.930).
"That's coming off a very good year last year, too," said Daniels. "He's played well for us all four years. It's been a steady uphill climb all four years."
Nagle's save percentage has increased from .900 at the end of his rookie year, to .909 his sophomore season, to .923 at the end of 2009-10. "He came in as a freshman not knowing how to approach his job as a goaltender," said Daniels, "and now he knows how to approach his job as a professional."
There is one little secret to Nagle's success, said Daniels. "Beyond god-given athleticism and his approach the one thing that stands out is his calm demeanor," he said. "He never gets rattled. Have I seen him have an off game? Sure, everyone does. But he never gets nervous. That translates into our skaters, too. No one gets rattled. He's just such a calming presence in net.
"Having a short memory isn't a bad thing for a goalie."
In part because of Nagle, the Bulldogs have the country's toughest defense, allowing 1.96 goals per game; however, they score just a little more than they allow, averaging 2.39 goals per contest.
"The math works in that scenario," said Daniels. "If we can continue to play respectable defense with respectable goaltending and find a way to score more goals, we could be a handful in the second half. We're going to try to push the envelope as far as we can without giving up our end of the rink. You can't keep going at a clip of under three goals per game."
This weekend, the third-place Bulldogs face a tough opponent, second-place Michigan. With 29 points, FSU is two points behind Michigan, and the Wolverines have two games in hand on the Bulldogs. Michigan averages 3.48 goals per game and gives up 2.43 per game. FSU took five points from UM in their first home-and-home series, Oct. 29-30, and the win was decided by a goal.
My ballot
I'm a little slow — as I've been saying frequently this season — so this move comes late in my career, not because of previous efforts to conceal, but because it never occurred to me that anyone would want to see my weekly ballot.
My USCHO colleagues do this, and fans began to e-mail me at around midseason to ask how I vote weekly, so here's my ballot for the USCHO.com Division I Men's Poll this week. I'm not sure if the column is where it will appear weekly — I'm still figuring out what to do with the blogging — but since it's the first time I've remembered it in this half of the season and it seems silly to publish it either separately or with Friday's picks, here's how I voted in this week's poll:
1. Boston College
2. North Dakota
3. Yale
4. New Hampshire
5. Minnesota-Duluth
6. Denver
7. Michigan
8. Notre Dame
9. Nebraska-Omaha
10. Wisconsin
11. Boston University
12. Miami
13. Maine
14. Union
15. Merrimack
16. Rensselaer
17. Colorado College
18. Western Michigan
19. Ferris State
20. Alaska
And finally, a question
During the past couple of weeks, I've caught up privately with a few players I've covered and gotten to know a little over the years. Some of the catching up was accidental, some deliberate — either on my part or theirs. All of it served as a reminder of how lucky I've been through the years to get to know many wonderful people through my experience covering college hockey.
This catching up also reminded me that there are players I never got to know very well off the ice but whom I miss from the college ranks, anyway, some — like BGSU goaltender Tyler Masters (1999-2003), who doesn't play professional hockey anymore, or MSU forward Chris Lawrence (2003-07), whose last recorded game was the Spartans' national championship in 2007 — because I liked the way they played and they seemed like interesting people.
So I have a question for you: Who, from the CCHA, do you miss?
Who do you occasionally think about when another player does something on the ice reminiscent of the former player? What role player's personality sometimes comes to mind? What player — from your favorite team or another — is someone you think of occasionally and say, "Yeah, now he was a great kid"?
E-mail me ([email protected]) and tell me who you miss and why.