Being a fan is about being biased. It's about believing in something, regardless of what objective analyses might tell you, always waiting for the Next Big Thing: The next Gretzky, The Drive Part Two, the next Kirk Gibson whoda-thunkit.
But while between phenomenal phenomena, being a fan is also about being opinionated. It's about debate, conjecture, manipulation and hypotheticals. So I present to you a few select cases of ECAC standouts, and my argument for why one is better than the other. Am I wrong? I sure ought to be, according to many of you, or I'm not doing my job right.
Best rookie
Candidates: Andrew Calof, Princeton; Greg Carey, St. Lawrence; Daniel Carr, Union; Matt Lindblad, Dartmouth
Making a case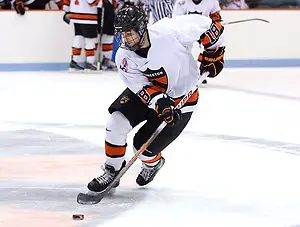 Calof leads the league in conference scoring — not just among rookies, but outright — with 13 points, and leads Princeton in overall scoring as well. He averages over a point per game on a mediocre offense (fifth in overall points, sixth vs. ECAC), and opened his NCAA career with a five-game scoring streak.
A natural sniper, Carey leads ECAC rookies (and all of the Saints) in league and overall goals, and is tied for the team lead in overall scoring as well. His 12 overall goals tie him for the league lead in that category among all classes, and his 1.11 league points per game is the best in the ECAC among freshmen … all while playing for the league's third-worst offense (both overall and against the ECAC).
Carr's overall accumulation of 12 goals and 12 assists put him atop all ECAC frosh in overall scoring, and the dozen goals knot him with Carey for most in the league, as well. He also leads the conference in overall points per game (1.09) and has seven multi-point outings.
Lindblad, who has been mentioned here before, sits one hundredth of a point-per-game behind Carey in the race for the rookie crown. He trails three seniors for the team lead in overall points, but is the sole leader in league scoring, all despite playing on the Big Green's third line.
Shooting 'em down
Calof plays on the first line (and good for him), with seniors Kevin Lohry and Matt Arhontas — two proven scorers. Nine of Carey's dozen goals came in four games, he's scoreless in two games against Clarkson, and he is minus-2 for the season. Six of Carr's eight scoreless games were against league foes, and Lindblad has scored in only half his games.
Not-so-final verdict
Gotta be Carey. He might need to work on his consistency, but his overall numbers aren't an illusion: He scores, and even when he doesn't, he is a presence that demands opponents' attention. Yet another superb acquisition by uber-veteran coach Joe Marsh.
Best goalie
Candidates: James Mello, Dartmouth; Ryan Rondeau, Yale
Making a case*
Mello has allowed two goals or fewer in 10 of his 12 games, and the two outliers were back-to-back non-conference tilts. That's pretty amazing. He leads the conference in league save percentage (.958), is second in overall save percentage (.940), and is second in league goals-against average (1.33).
Rondeau is Yale's goaltending answer to its massive offensive challenge. He's a perfect 13-0-0 (8-0-0 in league), and when it really comes down to it, isn't that a goalie's job … to win? He's third in the ECAC in overall save percentage (.936), second in GAA (1.88), and sixth and fourth against conference foes, respectively. If you include only netminders who have played more than 300 minutes (five full starts), Rondeau improves to second and third. Rondeau is also 5-0-0 against the likes of Dartmouth (2-0), Union, RPI and Princeton.
* Should Sean Bonar and/or Mike Garman be on this list? Perhaps by season's end, but at this point neither has played enough minutes to give us much of a read.
Shooting 'em down
About the only negative I can come up with for Mello — apart from his non-con meltdown (seven goals on 30 shots vs. Vermont and Mercyhurst) is that he was out-dueled by Rondeau in a 2-1 home loss to Yale last weekend. As for the guy who was on the other end of the rink, seven of Rondeau's 13 victories have been by a margin of three goals or more, thanks to the Bulldogs' nuclear attack.
Not-so-final verdict
No surprise: Mello seems like the better goaler right now, though I'm sure neither coach is anything short of ecstatic about the way his respective goalie is playing.
Best scorer
Candidates: Chris Cahill, Yale; Jack Maclellan, Brown; Chase Polacek, Rensselaer
Making a case
He of the Internet Rumor-du-Jour, Cahill, is leading the league in conference points per game by a wide margin: 1.71 to Maclellan and Polacek's 1.38. He also leads the league in conference goals per game, with 0.86 (six goals in seven games). He's averaging 1.29 points a game overall, and has been held scoreless only once (against Sacred Heart, if you can believe it) since Halloween.
Maclellan's 1.67 overall points per game lead ECAC Hockey. He leads the Bears in total goals (11), assists (14) and — obviously — points (25). It's no surprise he's been racking up the points, since Bruno's model of consistency has only one scoreless game all year (in 15 games played), against Cornell. Despite his team's penchant for scoring big and giving up just as big, Maclellan maintains a plus-6 rating while playing heavy minutes.
Last year's Hobey Baker Award candidate is this year's repeat offender … which is to say, he's pretty dang offensive. With 28 points in 20 games, Polacek leads the league in overall points and is tied for the lead in overall assists (18). He also leads the league in shots on goal (84), which makes him a very dangerous double threat as a playmaker and a goal scorer. He's plus-6 in eight league games, and plus-16 in his 20 overall appearances.
Shooting 'em down
Cahill, like almost any other individual on Yale, could be accused of having better numbers than his skill deserves. His linemates have 43 overall points combined, and the other lines are just as scary. Right or wrong, it's a fact that the Bulldogs offense is a very smooth-running machine with numerous talented parts. Maclellan is in a Cahill-Lite kind of situation, playing with Harry Zolnierczyk and Chris Zaires for much of the season (13 goals, 19 assists between that pair), and Maclellan also has by far the least-impressive plus/minus of the trio. Polacek is taking a lot of shots, but is not scoring on an extraordinarily high percentage of them. He is also benefiting from the maturity and abilities of Tyler Helfrich (9-8–17 overall).
Not-so-final verdict
In another perhaps predictable result, Polacek — for his well-rounded play and track record — wins out. Some may wonder why other Yale players weren't selected above Cahill, but Cahill leads the league in conference scoring; I couldn't ignore that.
Will we see some new stars burst into glory in the coming weeks? I'd put my money there, for sure.