Insane
That's the only way to describe Saturday's action. One game had the teams' exchange the go-ahead and tying goals in the last 13 seconds of regulation. The top team in the country blew a 4-0 lead. The team that made the comeback took a roughing penalty when regulation time ran out to lose the game on the subsequent power play. Then, there was the game that took two days and two rinks on two different campuses to finish.
The wild ending occurred in the Cortland at Buffalo State game. With the score tied 2-2, Cortland took the lead with 13 seconds left on a goal by Michael Lysyj.
Thirteen seconds left. Well, that should be a victory for the Red Dragons. What could Buffalo State do in 13 seconds? Get one rush off the face off? And if they pull their goalie, would the extra attacker even get into the play on time to make a difference? What could possibly … Trevor McKinney scored with two seconds left to tie the game with that extra attacker on the ice.
Nobody scored in overtime, and that's how the game ended.
Cortland kept taking one-goal leads. First Peter Lompado's second period power-play goal and then Jarrett Gold's short-hander. Daniel Andersson and Drew Klin on the power play tied it up each time. Then came the insane last 13 seconds.
Oswego built up a 4-0 lead at Fredonia on first period goals by Stephen Mallaro (power play) and Ian Boots and second period goals by Tyler Leimbrock and Owen Kelly. The fourth goal chased Mark Friesen from the net, replaced by Jeff Holloway.
What could possibly happen? The number one team in the country builds a four-goal lead against a team that thinks defense first. Paul Beckwith is back from an injury and looking as good as ever, yielding one goal in almost five periods of play. Fredonia puts their backup goaltender in.
This contest is over … Billy Sanborn breaks the shutout late in the second, Bryan Ross scores a two-man advantage power-play goal early in the third, Andrew Christ pulls the game to within one before the third period is half over, and Mat Hehr ties the game with his goalie pulled with only five seconds left in regulation.
Fredonia now has all the momentum in the world. Nothing can slow them down heading into overtime … Brad Nunn is called for roughing as the third period horn sounds. Oswego goes on the power play, and 55 seconds later, Paul Rodrigues wins it for the Lakers on a one-timer from the left circle.
Geneseo was cruising, scoring twice in the first 4:04, Stefan Decosse 36 seconds in and Brandon Angotti. Mike Arnold got one back for Potsdam on the power play, but Ryan Bulach returned the two-goal lead on their own power play. Geneseo outshot Potsdam 13-4 in that first period.
What could possibly slow down the Ice Knights? Finish up the two periods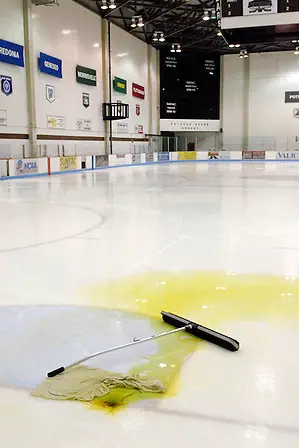 and go home … as the referees were checking the nets, they noticed a yellow liquid oozing out of one of the goalpost moorings. They moved the net, and it just kept getting worse. Facilities took a look at it, and now the situation looked gloomy.
A coolant pipe had burst, and there was no hope to fix it quickly.
"Certainly it's a very difficult situation for everyone involved," Potsdam coach Chris Bernard said. "I really appreciate Geneseo's professionalism and approach to it. There's nothing within anyone's control here. I think the way they handled themselves is first class, and I'm grateful for that."
"It doesn't surprise me with the fire alarm going off [at Plattsburgh]," Geneseo coach Chris Schultz said. "It is what it is. You're going to run into stuff like this. You just got to make the best of it."
Geneseo found rooms available down in Canton, and Potsdam was able to get Clarkson to provide a huge favor and use Cheel Arena (which also hosted the Potsdam women's game versus Cortland originally scheduled for Sunday at Potsdam).
When the game finally resumed on Sunday, Jonathan Redlick gave Geneseo a 4-1 lead on a second period power-play goal. Potsdam mounted a comeback in the third when Kevin MacLellan scored 58 seconds in on the power play and Arnold got his second. However, Adrian Rubeniuk held off the Bears for the win with 21 saves.
The game took approximately 21 hours to finally play out.
The Weekend's Key Matchup
Friday, of course, saw the key matchup between Geneseo and Plattsburgh. The Cardinals jumped out to a 3-0 lead, all on second period goals by Kyle VanDermale, Kyle Kudroch, and Dan Sliasis. Geneseo then scored twice in the third to make a game of it with a David Arduin short-hander and Colin de Jersey goal. However, Ryan Craig got an empty-net goal to seal the deal.
This victory by Plattsburgh did exactly what it was intended to — tighten up second through fifth place. When the weekend was done, Geneseo had 13 points, Plattsburgh had 12, and Morrisville and Buffalo State had 11 each. Two points, four teams. It's now anyone's race for the last bye position.
Other Highlights
– Potsdam rolled over Brockport despite a James Cody hat trick, 7-3, led by Sy Nutkevitch's two goals, outshooting Brockport, 61-20.
– Despite letting up the first goal, Fredonia had no problem against Cortland, winning 6-2, as Jordan Oye scored twice.
– After falling behind 1-0, Brockport took a 2-1 first period lead over Plattsburgh and held it till 12:57 of the second period. The Cardinals scored three unanswered goals for the 4-2 victory.
– Despite a Jim Durham short-handed goal to allow Buffalo State to tie Oswego, 1-1, the Lakers scored three times afterwards to win 4-1.

SUNYAC Players of the Week
(selected by the conference)
Player of the Week:
Ryan Craig, Plattsburgh (F, Jr., Easton, Maryland) had a six-point week. On Monday, Craig tallied a goal and an assist in Plattsburgh's 5-1 win over Williams. In Friday's 4-2 win over Geneseo, Craig scored a goal and an assist. Craig also added two assists in a 4-2 win over Brockport on Saturday night.
Rookie of the Week:
James Jarvis, Morrisville (D, Pickering, Ontario) posted a goal and assist in the 3-2 loss to Hobart College on Saturday. He assisted the first score in the second period to cut the Statesmen's lead to one, before netting a power-play goal in the 19th minute of the final period for the Mustangs to complete the scoring.

Goaltender of the Week:
Josh Leis, Plattsburgh (So., Kitchener, Ontario) continues his outstanding play with a 3-0 week in between the pipes for Plattsburgh to earn his third SUNYAC Goalie of the Week honor in the last four weeks. Leis allowed one goal and recorded 24 saves against Williams on Monday. On Friday night, Leis stopped 19 shots in Plattsburgh's 4-2 win against Geneseo. In the Cardinals' 4-2 victory over Brockport on Saturday, Leis turned away 26 of 28 shots. He finished the week with 1.67 goals allowed and a save percentage of 93 percent.