Talk about saving your best for last.
Through his first three seasons at Niagara, Bryan Haczyk had recorded a total of 18 goals while mostly skating on a checking line and serving as a short-handed specialist. This year, as team captain, the Nutley, N.J., native had hit the 18-goal mark by the middle of January and provided the Purple Eagles with much-needed new scoring punch.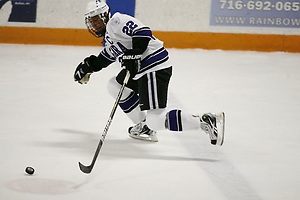 "I'm seeing some power-play time for the first time, and that's helped in putting up points," said Haczyk, who has nine power-play goals to date. "Being captain is an honor and a responsibility, and it's my job to make sure everyone's on board and acts best for the team."
"It's been quite a story," said Niagara coach Dave Burkholder. "He played on some good offensive teams his first three years, behind some guys who are now in the pros, and he played his role on the third line and killing penalties."
Haczyk, 23, has set personal career highs in goals, assists and points this season, and has not missed a game for the Purple Eagles since he began his college career in October 2007. Following a four-goal performance in a split at Air Force on Feb. 11-12, plus another goal the following weekend against Canisius, Haczyk stood atop the overall NCAA Division I scoring scroll with 27 goals.
"It definitely feels good to know," Haczyk said at the time. "I want to contribute and help the team be successful; and as long as we win, that's what I care about the most."
"I would say he's one of the fastest skaters in Division I," said Burkholder. "He makes problems for our opponents, and then you add his skill set and his playmaking ability. He's the real deal."
A four-time selection as Atlantic Hockey Association Player of the Week, and a two-time Niagara student-athlete of the week so far this season, Haczyk (pronounced HA-chek) was also chosen as national player of the month for January by the Hockey Commissioners Association after tallying 12 goals and 15 points in eight outings. He also concluded a personal 21-game scoring streak with a goal and an assist in a 6-5 loss to Robert Morris on Jan. 28, the same night that he also ended an eight-game goal-scoring string.
He was tied for ninth in the nation with 44 points by the end of February, while long-time linemate and best friend Paul Zanette ranked second with 53 points and was first with 29 goals. Haczyk remarked the two have played together for so long, they even look to create offense while Niagara (18-12-4, 15-10-2 Atlantic Hockey) is shorthanded.
"The chemistry between Paul and I is fantastic," said Haczyk, who has also collected 11 career game-winning goals. "We know where to find each other on the ice, and most of the success I've had this year is from playing with guys like Paul, and an incredible team."
"We wanted to know where our offense was coming from this year, and what he and Paul have done is remarkable," said Burkholder, whose team lost its top three scorers from a year ago.
Niagara's leading returning scorer last fall was Haczyk, a 5-foot-9, 175-pound forward who was born in Secaucus, N.J., and learned to skate in Jersey City at age 3. When he was 7, he moved to Nutley, where he skated in a local park that froze over in the winter. He also played youth hockey for a variety of organizations until heading off to Seton Hall Prep, where he helped the Pirates to a pair of state titles and also earned Gordon Conference MVP honors.
He then played three years of junior hockey, first at home with the New Jersey Hitmen, and then with the USHL's Green Bay Gamblers for former Harvard coach Mark Mazzoleni.
"I realized I needed a scenery change," Haczyk said of his decision to leave home. "It was probably one of the better decisions I've made, as far as hockey is concerned."
He subsequently chose Niagara over Rochester Institute of Technology, Brown and Princeton after a visit to campus. A Dean's List student, he earned his bachelor's degree in accounting in December while maintaining a 3.9 GPA. He managed to graduate early by taking advantage of summer classes over the last few years.
"It made it easy for second semester my senior year, just in case something came up hockey-wise," said Haczyk, who is enrolled in graduate courses.
His first semester was something to discuss. Niagara's No. 22 began his 21-game scoring string on Oct. 29 with a goal against Mercyhurst, and scored a goal in six straight games to begin the streak. By the time it ended two months later, he had posted 22 goals and 14 assists for 36 points, including a hat trick against Holy Cross.
"We asked him to shoot more," said Burkholder. "He has an NHL one-timer and a great release, and he uses his speed to take the defense wide. If he shoots more, he's more dangerous, and he's done that."
The Purple Eagles have made the NCAA tournament three times, the last in 2008 when Haczyk was a freshman, after they edged Bemidji State for the CHA championship.
"It was something I'll never forget," Haczyk said of that 3-2 win at NU's Dwyer Arena. "It was definitely the best experience I've had so far at Niagara."
The Purps moved over to Atlantic Hockey this season after the four-school CHA disbanded.
"It's definitely been challenging," Haczyk said of the shift to a 12-team league. "It's nice to see more teams and play against different teams."
One of a handful of Americans on Niagara's predominantly Canadian roster, and the only one from the Garden State, Haczyk has blended in — except, perhaps, where MTV's "Jersey Shore" is concerned.
"I used to watch it, but it's kind of getting old," he chuckled. "You don't see too many players come out of New Jersey, so I guess it's still a novelty."
Despite growing up a New York Rangers fan in Nutley, which he still visits a few times every year, Haczyk attended a New Jersey Devils prospect camp at the Prudential Center in nearby Newark last summer.
"They needed a couple of guys to fill out some roster spots," he said. "It was nice to go out and see how I measure up with the future of the NHL, and I saw first-hand what a first-class organization the Devils are."
He hopes to parlay that experience into playing professionally, and his coach is firmly in his corner.
"He will play at the next level," said Burkholder. "He has national league speed for sure. Someone will give him a chance at the AHL level, and then it's where does he go from there."
For now, Haczyk and his classmates would like nothing better than another shot at the NCAAs, which would make them the first class in Niagara history to get there twice.
"It's something we've set our sights on since we've been here," he said. "It would be something nice to leave here with, and it's definitely our goal."