A lot has been made of Alaska-Anchorage's run to the Xcel Energy Center this season, and with good reason. The team, typically one of the league doormats, had its best season in a while in many ways, capping it off with a playoff sweep of Minnesota and a trip here, to the Final Five — their first in seven years.
Despite being arguably the better team Thursday night, the Seawolves fell to the Colorado College Tigers, 4-2, in a game that, while it may be hard to believe right now, will ultimately be good for the program.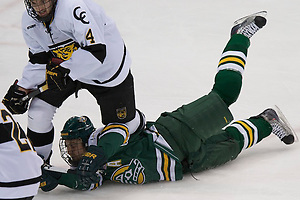 "It'll take a couple weeks; the guys are down right now," said coach Dave Shyiak. "I think as a coach and these players, we think we could have did a little bit more; that's why it doesn't feel right. I thought we earned the right to win tonight by playing the way we played, but it wasn't in the cards. You'd like to win one more and take it one next step and that's going to sit for a while.
"But if you look back on the season, we've had our best home record ever at the Sullivan Arena in the WCHA, best wins ever in the WCHA era, probably the best road wins; I mean, if you combine all that and we did it without all-league players," he continued. "That tells you how much, how special this group really is, playing so hard for one another."
That success was built off of a few different things; mainly, the seniors and the goaltending.
"Our seniors were incredible this year. I think they built the foundation and the blueprint that our program needs to move forward and hopefully we can become a repeat participant down here," said Shyiak. "Now everybody has the experience of getting here and what it takes to get here so it's a good step forward for our program. We're not just going to be happy we got here. Again, we want to be somebody who's here every single year and have a chance to play for a championship. That's what college hockey's about."
That experience combined with the goaltending is something that might help UAA achieve that goal and not have its next trip here take another seven years.
"We now have two young freshmen [goaltenders] we're going to have for four years. That puts ourselves in a pretty good position moving forward," he said.
"Our staff did a great job of getting character guys that have a team-first attitude and look what happens," he continued. "Getting over the hump. Now what we need are a couple difference-makers and hopefully that will come in time and hopefully we've got some in the making here."
But for now, the team is left with a sour taste in its mouth.
"We've got a good program," said senior Craig Parkinson. "I'm proud to say I'm from there, proud to say that I've played there and it's definitely going in the right direction. You know, maybe in a couple weeks, we'll be happy with, well, not happy with the way it turned out tonight, but it is a good stepping stone for this franchise to get here.
"It's too bad it ended tonight."
Video: Alaska-Anchorage coach Dave Shyiak:
httpv://www.youtube.com/watch?v=XmH5SdqA4Bs