When the puck drops Thursday afternoon for the first NCAA Frozen Four semifinal, it will be more than just young, upstart Notre Dame battling veteran Minnesota-Duluth.
It will be more than just a matchup between the Bulldogs' top line and the Fighting Irish defense, and even more than the Irish having to go up against the home-state team.
Coaches who sent their teams out against both Minnesota-Duluth and Notre Dame this season think it will be a clash of styles that might come down to whose veterans perform and whose don't.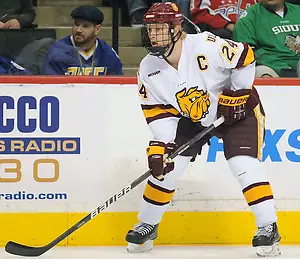 The Bulldogs scored five power-play goals in getting past Union and Yale in the East Regional.
"I think the Connolly, Connolly and Fontaine line is the top line in college hockey," Minnesota State coach Troy Jutting said. "As they go, so goes the rest of the team."
That doesn't seem to be far from the truth — junior Jack Connolly has racked up team highs in assists (41) and points (58) so far this season. Junior Mike Connolly leads the Bulldogs in goals with 27, and has 53 points. Justin Fontaine, a senior, sits between the pair with 22 goals and 55 points.
Freshman winger J.T. Brown and junior center Travis Oleksuk have helped make the Bulldogs more than a one-line team. Brown has 34 points in 40 games, while a team-high seven of Oleksuk's 13 goals are game-winners.
"Brown has had a very good year as a freshman [in the WCHA]," Jutting said. "Oleksuk is also a very good hockey player."
The Bulldogs' depth will be an important factor; they have 11 players with at least 10 points.
"They have real, real aggressive offensive players," Northern Michigan coach Walt Kyle said. "They have more experience [than Notre Dame]."
That shows on the defensive side of the Bulldogs' roster, which features five upperclassman defensemen and a junior goaltender. All but one of those five defensemen played at least 26 games this season.
On the other side of the ledger, the Irish are a hungry young squad that feeds off the play of its two top freshmen, T.J. Tynan and Anders Lee. Tynan, the team's most valuable player, has a team-high 53 points and is tied for the team lead with 31 assists. Lee leads the team in goals with 24.
"I was impressed with their team, especially their freshmen, Tynan and Lee," Jutting said. "I think what they were able to do speaks volumes about those kids."
The dynamic duo has helped the Irish to an impressive 25-13-5 record this season, but in some ways, that wasn't good enough for this talented young squad.
"I know they were disappointed with their weekend in Detroit," said Lake Superior State coach Jim Roque, whose Lakers lost to the Irish in the CCHA playoffs. "Maybe that was a good thing for them [from a motivational standpoint]."
While their wealth of young players continues to grab headlines for the Irish, it's their veteran leadership that could determine how far they go. Senior forwards Ryan Guentzel and Calle Ridderwall are both impact players offensively, while senior defenseman Joe Lavin has anchored the blue line. Guentzel has been impressive all season long, scoring a career-high 37 points.
"Some of their older players, they may not have had the numbers this year, but they always seemed to score big goals when the team needed them to," Roque said. "They are not going to beat themselves. Every line and every player is just consistent."
While the Irish rank right up there offensively with the other three Frozen Four teams, their defense can get overlooked thanks to their ability to put the puck in the net.
"Notre Dame has a bunch of honest hockey players," Kyle said. "They are a different hockey club in that they are a solid defensive team."
Defenseman Sean Lorenz has been a big part of what makes the Irish defense so strong. The junior leads the team with a plus-29 plus/minus rating while playing in all 43 games.
There is very little that separates the teams heading into the biggest game of their seasons. The Bulldogs have faced only two CCHA opponents this season, beating Northern Michigan 3-2 on Oct. 9 and tying Lake Superior State 6-6 on Oct. 8. The Irish also faced two WCHA opponents, losing to Minnesota State 4-3 on New Year's Day and absorbing a 6-3 loss at North Dakota on Nov. 26 before tying the Sioux the following night.
Both squads also feature talented goaltenders. Junior Kenny Reiter has been solid all season for the Bulldogs, posting a 2.29 goals-against average. Mike Johnson, a sophomore, has been the Irish's go-to guy, backstopping 20 of his team's 25 wins.
There may be one place where the Bulldogs have the advantage: the power play. The Bulldogs' power play checks in 22.5 percent, good for 11th in the nation and second only to North Dakota among remaining teams. The Irish have converted on only 16.2 percent (39th) of their man advantages this season.
"This game is going to come down to goaltending and special teams," Kyle said. "This is a real good matchup."