In the history of the NCAA hockey tournament, few national semifinal matchups have ever had the cachet of this year's clash between Michigan and North Dakota.
Together, the schools own 16 national championships, and since 1997 there has been only one year (2002) when both teams weren't participants in the NCAA tournament.
But as far as winning championships in recent years, the cupboard has been bare for both programs.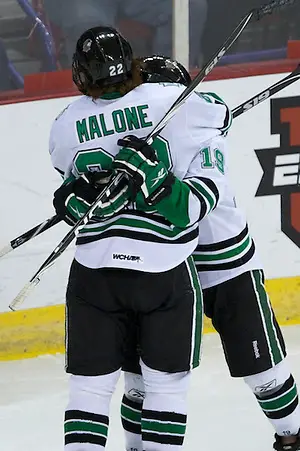 Therefore, the Fighting Sioux and Wolverines go in looking to add to their legendary pedigrees.
"I think North Dakota versus Michigan is going to be a great semifinal matchup for the Frozen Four and one of those games that could come down right to the wire," Alaska coach Dallas Ferguson said. "Both teams are really well-coached and there is a lot of pride involved with both programs."
Led by the nation's leading goal scorer and Hobey Baker Award finalist Matt Frattin (36 goals, 60 points) and stalwart defenseman Chay Genoway, the Fighting Sioux, which last won a national title in 2000, will be the favorite in the heavyweight showdown.
Dean Blais, coach of North Dakota's WCHA rival Nebraska-Omaha and a former Sioux coach, knows all about the matchup problems his former school presents.
"[The Fighting Sioux] roll three pretty strong lines, so I think their depth is their biggest strength," said Blais, who guided North Dakota to two national championships during his 10-year tenure from 1994 to 2004. "But they might be more talented [than Michigan] because of players like Frattin and Genoway that can make a difference in a game."
Wisconsin coach Mike Eaves said Dave Hakstol's Fighting Sioux lack weaknesses for Michigan to exploit.
"North Dakota's a complete team that can beat you in many ways," Eaves said. "They're backstopped by a big goaltender [Aaron Dell] that makes the saves when they need him to, but the biggest factor they have going for them is that they are an upperclassman team that will be ready for the challenge of the Frozen Four."
On the other side of the coin are the Wolverines, college hockey's most accomplished program, which last won a title in 1998. Three gifted seniors — Carl Hagelin (the team's leading scorer with 48 points), Louie Caporusso and Matt Rust — carry the load up front for Michigan. Veteran goaltender Shawn Hunwick has been working his magic between the pipes.
After coaching the Nanooks against both the Wolverines and Fighting Sioux this season, Ferguson sees plenty of similarities between the two teams.
"I think Michigan gets consistent contributions from everyone in their lineup," Ferguson said. "Like North Dakota, they play at a really high skill level and really attack you offensively. Therefore, net-front play should prove crucial to the game's outcome."
Blais' Mavericks came within an overtime goal of knocking off Michigan in the West Regional semifinals, so the Nebraska-Omaha coach is well-versed in the Wolverines' brand of hockey.
"Michigan is playing confidently and got to the Frozen Four not by riding their tradition, but by engaging in hard work," Blais said. "They have a physical top line that can match up with North Dakota, but they might not have the same amount of strength in all of their lines that the Fighting Sioux [possess]."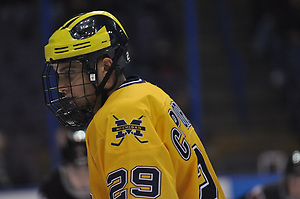 However, Blais predicts only a limited separation between the two semifinal combatants.
"It's going to be a one- or two-goal contest that could go either way," Blais said. "Neither team has a visible advantage because the matchup is that close."
The Fighting Sioux-Wolverines victor will face off in Saturday's championship game against either Minnesota-Duluth or Notre Dame, two schools pursuing a first NCAA title. However, whichever team that is crowned the 2011 champion will break Hockey East's three-year winning streak.
The biggest beneficiary of the all-western Frozen Four might be the Fighting Irish, who are familiar with the Wolverines and Fighting Sioux after playing both during the regular season. But Notre Dame coach Jeff Jackson knows that if his team knocks off Minnesota-Duluth, Michigan would present a difficult final game opponent.
"Red Berenson always coaches Michigan teams that are talented offensively, but this year's team really improved defensively during the second half of season," Jackson said. "A lot of that has to do with the emergence of Hunwick in goal, but they have a good blue line and a senior class that's one of the best in the country."
After playing two hard-fought contests at North Dakota during Thanksgiving weekend, Jackson walked away impressed with the Fighting Sioux.
"North Dakota might have been the best team we faced all season," Jackson said. "They have a lot of weapons up front, a good back end and Dell is real formidable in goal. There is a lot of presence to that program, similar to Michigan, so it was a good learning experience for us to play against the Fighting Sioux in their building."
Moving beyond just the anticipated matchups on the ice, the 2011 Frozen Four takes place during a crossroads for college hockey. In two years, the WCHA and CCHA, the only two leagues with representatives left in the Frozen Four, will lose five members to the newly formed Big Ten hockey conference — Wisconsin, Minnesota, Ohio State, Michigan State and Michigan.
However, Eaves does not believe there is extra pressure riding on the Wolverines as new league's lone tournament representative.
"I can see where people would point that out," Eaves said. "But the Big Ten is still a long ways away and there's still a lot of work left to do to put it together, so I don't think that has been much of a [burden] for Michigan to carry around."
But for now, coaches like Ferguson are proud to see the four schools remaining restore pride in both western leagues, even if their makeups will change in the upcoming years.
"I think if anyone says they're not looking ahead, they'd be crazy," Ferguson said. "But this Frozen Four will be good for college hockey, having two of the top teams from both the CCHA and WCHA. That representation reinforces the strength of both leagues at this time."