This was not the way North Dakota's season was supposed to end in the eyes of any Fighting Sioux player, coach or fan. In fact, coach Dave Hakstol never envisioned it coming to an end.
"Regardless of how, I didn't think it was going to end," Hakstol said after his team's 2-0 loss to Michigan in the Frozen Four semifinals Thursday at the Xcel Energy Center.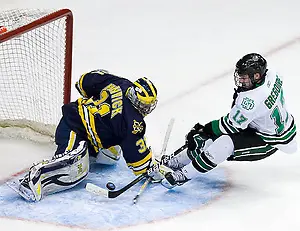 "I'm just going to be bluntly honest. I don't think anyone in our locker room even considered it the option of losing down the stretch."
And for the seven seniors who missed their shot at a national title, the end came abruptly. Assistant captain and senior Derrick LaPoint spoke for the group that includes Chay Genoway, Matt Frattin, Evan Trupp, Brad Malone, Brent Davidson and Jake Marto.
"Can you even put it into words?" LaPoint said. "The group of guys I'm graduating with are some of my best friends and for them to not win a national championship is heartbreaking.
"We were trying to win a national championship and we didn't do it. And to not do it is a failure, at least in my mind."
LaPoint sat at the press conference with his Sioux jersey still on with his pads on underneath. He said one of the toughest parts of coping with the loss will be removing the sweater.
"It will definitely take a long time for me to take this jersey off because it's something I've worn with pride my entire career," LaPoint said.
Genoway talked at Wednesday's press conference about joining the current senior class before the season after he received a medical redshirt for a concussion he suffered in November 2009.
"For the senior class to take me in has been a pretty cool thing," said Genoway, the only member of the UND team that played Michigan in the 2007 regional finals. "It's a group of six guys that's pretty tight-knit so it was tough to fit in."
The core group of seniors finished 109-48-20 as a class with two Frozen Four appearances, two WCHA Final Five titles and a WCHA regular season championship.
Unable to finish
The Sioux had multiple chances throughout the entire 60 minutes to tie the game and take the lead but a combination of missed opportunities, a little puck luck and a phenomenal 40-save performance by Michigan goaltender Shawn Hunwick kept the puck out the Wolverines' goal.
"It's just one of those nights where the bounces weren't going your way," said center Corban Knight. "It's just unfortunate that tonight had to be one of those nights."
The Sioux trailed from the 13:26 point of the first period on but never felt nervous down a goal until Scooter Vaughan's empty-net goal in the final minute.
"There was no tension," LaPoint said. "There was nobody gripping their sticks too tight. Everybody was loose. Everybody felt confident the entire game."
Added Hakstol: "Until the final buzzer, we thought we had an opportunity to win the game. There was not one minute or one second throughout the third period where any doubt crept in."
The Sioux were shut out for 61:39 from Jake Marto's goal with 1:39 left in the regional final against Denver until the end of Thursday's game. It was the fourth-longest scoring drought of the season. UND went 91 minutes and nine seconds without a goal from Oct. 29 to Nov. 5 when it was shut out by Denver and took half a game to score against Minnesota-Duluth the following Friday.
Et cetera
Michigan put only three shots on goal in the second period, the fewest allowed by UND in a period all season. … The last time the Sioux were scoreless through two periods was in a Jan. 28 loss to Colorado College that ended 4-2.