Western Michigan rookie coach Jeff Blashill, who took over a squad that won only eight games the previous year, has been voted as USCHO's coach of the year.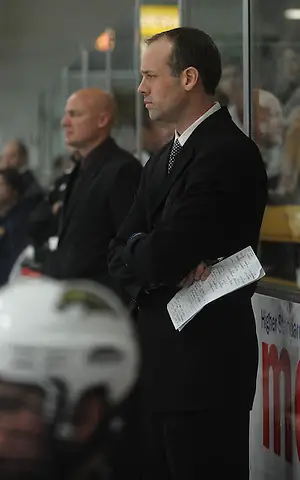 In an amazing turnaround, Blashill took the same squad that had finished in the basement the previous year and coached them to a 19-13-10 record and fourth place in the CCHA regular season standings, Western's first top-four finish since 1995-96.
He followed that up by leading the Broncos to a series win over Ferris State and Western's first CCHA tournament semifinal since 1993. There, they upset Michigan 5-2 en route to a runner-up finish to Miami in the tournament, Western's first appearance in the CCHA championship game since 1986.
To follow up on that, Western made the NCAA tournament for the first time in 15 years and gave Denver all it could handle before losing 3-2 in double overtime. The Broncos were less than five minutes away from an upset before Denver rallied to tie the game.
Blashill has a long history in the CCHA. He tended goal for Ferris State and was an assistant coach at both Ferris State and Miami prior to becoming a coach in the USHL.
"Jeff's an excellent recruiter and a real student of the game," said Miami coach Enrico Blasi.
Blashill had only four freshmen on the roster. While two were big scoring contributors, Blashill coaxed excellent seasons out of several sophomores and juniors. In Western's two seasons before Blashill took over, the Broncos won eight and 12 games, respectively.
Merrimack coach Mark Dennehy was the runner-up to Blashill for coach of the year.
USCHO's awards were voted on by staff members at the Frozen Four. Still to come this week are the All-USCHO first, second and third teams.