St. Norbert College coach Tim Coghlin, who coached his team to a second consecutive Frozen Four and the D-III championship, has been named USCHO's Division III coach of the year.
The Green Knights finished with a record of 25-4-1, the 13th time in 15 seasons they have won at least 20 games. Along the way, they captured the NCHA regular season and playoff championships and the school's second NCAA title when they beat Adrian, 4-3, at Ridder Arena in Minneapolis. St. Norbert became the third team since 1993 to win at least two NCAA championships, and under Coghlin has played in the NCAA title game five times since 2004.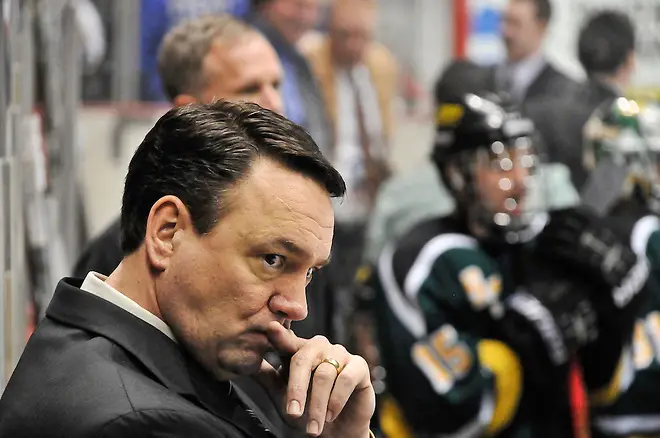 In 18 seasons with Coghlin at the helm, St. Norbert has won the NCHA division title 12 times and the NCHA Peters Cup as playoff champions nine times. Over the course of the season, Coghlin set an NCHA milestone with his 371st NCHA win, a 5-4 win over Wis.-Superior on January 21, becoming the winningest coach in conference history, surpassing the old mark of 370 set by Bemidji State coach Bob Peters. Coghlin kept adding to his NCHA pedigree during the season, improving his conference coaching mark to 380-99-39 by the end of the year. Only five other NCHA coaches have 200 or more conference wins.
Coghlin coached the team to strong defense, as the Green Knights gave up only 1.80 goals per game to lead Division III in scoring defense, and the team went 20-1-1 when leading after two periods. Under Coghlin, the Green Knights are 212-1-2 at home when leading after two periods.
USCHO's awards were voted on by the D-III columnists and editor. Still to come this week are the All-USCHO first, second, and third teams.