Perhaps Providence athletic director Bob Driscoll said it best regarding why the school hired Nate Leaman away from Union to become the Friars' head coach.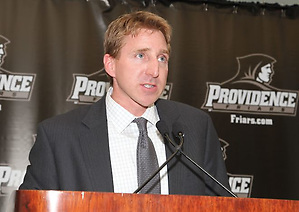 "The best indicator of what somebody's going to be like in the future is what he's been like in the past," Driscoll said. "What he's been like in the past is unbelievable."
Good point.
Union moved to Division I for the 1992-93 season. Before Leaman's appointment in 2003, the Dutchmen had only two winning records in 12 seasons.
When Tim Army resigned earlier this year, Providence had only five winning records in 18 seasons. And the Friars failed to qualify for the Hockey East tournament each of the last three seasons.
As for the "unbelievable" part …
Leaman last season guided Union to a 26-10-4 record, the ECAC regular-season championship and the first NCAA Division I tournament berth in school history.
As a result, he was voted the winner of the Spencer Penrose Award, given to the Division I men's coach of the year.
"The fact Nate's done it in an environment that has fewer resources and a lot less history of success was a factor," Driscoll said. "When you walk into a place and create something that's never been created before kind of single-handedly — he was the strength and conditioning coach, he was the academic advisor — it tells a lot not only about his vision and his ability to move people but his perseverance and mental toughness."
If mere words can be equated to mental toughness, Leaman exuded that commodity when asked about knocking heads with Boston College, Boston University and New Hampshire in the conference recruiting wars.
"I'm not intimidated by the recruiting whatsoever," said Leaman, who signed a six-year contract. "At Union, we didn't have an overly impressive sell and we ended up with seven players with over 30 points last year.
"Providence offers an outstanding education. We have one of the best traditions in college hockey. I know once we get a young man on campus and get him to meet our staff and see the standards we're going to have for our program, I'm not anticipating recruiting being an issue."
Leaman wasn't talking to hear his own voice when he referred to Providence's hockey tradition. After all, the Friars have produced the likes of Lou Lamoriello, Brian Burke, Ron Wilson and Chris Terreri.
"There are challenges," Driscoll admitted. "But when you come to a better league, one that's won three of the last four [national] championships, you can recruit student-athletes that want to play in that league.
"The reality is we've done it before. We've been at the top of this league. Why shouldn't we do it again when we have a lot more going for us?"
One thing Leaman will have going for his program is a major renovation of Schneider Arena, which, to some, has been considered a detriment to Friars hockey.
"The school is committed to doing a very large renovation to the rink," Leaman said. "It's already been approved. It's something I'm excited about because I believe in two years Schneider Arena is going to be one of the nicest facilities in the East."
The fact Leaman is taking on a program that was similar to Union's when he was hired was about as obvious to him as a 100 mph slap shot.
"The situation here is similar to Union," he said. "The program hasn't made the playoffs in three years and only won three games total after Jan. 15. But I really feel that with the resources and the commitment of the school, we can build things quicker here than we did at Union."
Yet before the first puck is dropped, Leaman may have to navigate a potentially awkward situation since one returning Friars player is coach Army's son, Derek.
"I don't consider it awkward," Leaman said. "I've known Tim even before he was the coach at Providence.
"The relationship I'll have with Derek will be completely independent of any history in the Providence program. It'll be a player-coach relationship just like any other player on the team."