Mel Pearson, who spent the last 23 years as an assistant coach at Michigan, is about to lead a team on his own.
Pearson has been named head coach at Michigan Tech, his alma mater, the school announced Friday. He will be introduced in a Houghton, Mich., news conference Tuesday.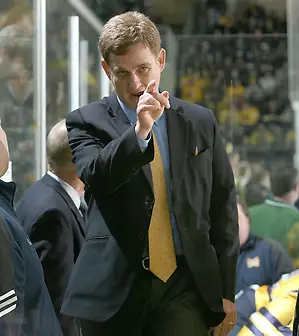 "I'm very excited and grateful for this opportunity," Pearson said in a statement. "Michigan Tech was the school that gave me my first chance not only as a player but as a coach, and I'm looking forward to working with the university, alumni and community in bringing back the winning tradition."
Pearson replaces Jamie Russell, who resigned in March after the Huskies finished 4-30-4.
Michigan Tech has had one winning season in the last 18, that coming under Russell in 2006-07. (See Michigan Tech team history.)
In 23 seasons as an assistant to Red Berenson at Michigan, the Wolverines were 667-243-71, appeared in the Frozen Four 11 times and won two national championships.
"I'm thrilled that our search has led us to someone with the quality background of Mel," Michigan Tech athletic director Suzanne Sanregret said in a statement. "He has extensive experience in all aspects of college hockey, but his reputation as a recruiter made him our top candidate. He has contacts within all of hockey, from juniors to the professional ranks, and he's well connected to our alumni."
Pearson, who starts his new role on May 16, was reported to be close to accepting the job last month but reportedly backed away.
He was recruited to play at Michigan Tech by John MacInnes and skated for the Huskies from 1977 to 1981. He scored 21 goals and 56 points in 97 career games. The most notable collegiate goal he scored may have been the winner in the 1979 Great Lakes Invitational championship game against Michigan.
Pearson became a Huskies assistant coach in 1982 and worked under Jim Nahrgang and Herb Boxer during a six-year tenure.
In 1988, he joined Michigan as an assistant coach and was promoted to associate head coach in 1999.
"It is a good opportunity for Mel to get a head coaching job at his alma mater," Berenson said in a statement released by Michigan. "He's been a great asset to the Michigan hockey program in his 23 years of service. We're going to miss him but part of this whole process is to help people move up and develop into head coaches. It's an opportunity that he decided was right for him."
In 2000, he was named the recipient of the Terry Flanagan Award, recognizing an assistant coach's body of work.
"Michigan Tech is committed to the hockey program," school president Glenn Mroz said in a statement. "Mel shares our goal of returning the program to national prominence, and I'm confident in his ability to develop a program we can be proud of both on and off the ice. We are grateful for the financial support of alumni who partnered with us to make it possible to bring Mel to Tech."