Call it college hockey's equivalent of Clark Kent changing into his Superman outfit with a "U" on the front instead of an "S."
That's basically what happened to Rick Bennett on April 22.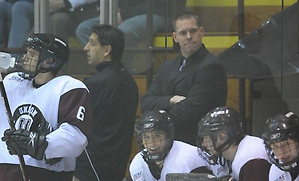 When Union coach Nate Leaman announced he was leaving to assume a similar position at Providence, he told Bennett, the associate head coach, that director of athletics Jim McLaughlin wanted to see him posthaste.
Bennett emerged from that meeting a half-hour later with a four-year contract as Leaman's successor.
"Little did I know I would be driving in as an assistant and leaving as a head coach," said Bennett who, even now, still appears surprised (albeit pleasantly) at this development. "It was a bittersweet day. It was bitter in that I accepted a job that was Nate's and a great day when I got the head coaching job. But by the same token, I realized I wasn't going to be working with Nate and Ben Barr [who followed Leaman to PC, where he'll be the top assistant]."
When Leaman was named head coach eight years ago, the program was wallowing in mediocrity.
When Bennett (a second-team All-American in 1989 and a Hobey Baker Award finalist as a senior in 1990 at Providence) takes over, it will be after arguably the best season in school history.
Union set school records for overall victories (26) and ECAC victories (17). It captured the ECAC regular-season championship and earned the program's first Division I NCAA tournament berth.
Or to put it another way, the bar at Union is set much higher than it was when Bennett was hired six years ago (he was promoted to associate head coach two years later).
"I'm trying to keep this program headed forward and want to take it to another level," Bennett said. "I know what's in that locker room and the character of those players.
"I think the first thing people will knock is our goaltending. We lost an All-American in Keith Kinkaid (who, as a sophomore, signed with the New Jersey Devils) and Corey Milan in the same year.
"One might think that's a devastating hit. I don't because we have a very good freshman in Troy Grosenick (in 2009-10 with Cedar Rapids of the USHL he posted a 2.63 goals against average). He has a great opportunity and has been working out hard because he knows what's ahead of him."
So does Bennett, but he gives the impression he isn't the least bit apprehensive about succeeding a coach who brought Union to the proverbial next level.
"I'm not sure where we're going to be picked in the ECAC and nationally," Bennett said. "I'm not going to get carried away with that. But I am worried about tomorrow's workout.
"It's a cliche but that's how we've approached it."
Might Bennett have to take a different approach with his players considering he's the head coach instead of an assistant who served as a "buffer" between the players and the head honcho?
"So far it hasn't been an issue," he said. "My relationship with the players never was in question. As far as my taking over, the players haven't reacted in a negative way toward my being named the head coach.
"When I was at a crossroads in my career, I went to the ECHL (in 1995, he played for Jacksonville and basically was a quasi-assistant under Bruce Cassidy, who later went on to coach the Washington Capitals) and understood the fine line between when to be a player and when to be an assistant to the head coach.
"I try to apply those principles to college coaching," Bennett added. "Sometimes when I made a mistake, Nate would talk to me and it helped."
Bennett left zero doubt about what will be the primary principle of a team that ranked second nationally last season with a 2.10 goals against average.
"We will play as hard as we can, whether it's at home or away," he said. "We'll be all business from the minute we walk through the doors until we leave.
"We'll use our shoulder pads. Defense is never going to be sacrificed, just like it wasn't last season."