He knows the area. He attended the school. You could say that Mel Pearson embodies all that it means to be part of the Michigan Tech Huskies.
He was a player under late former head coach John MacInnes and he served as an assistant under both Jim Nahrgang and Herb Boxer. Now, he's taking on a new role: head coach.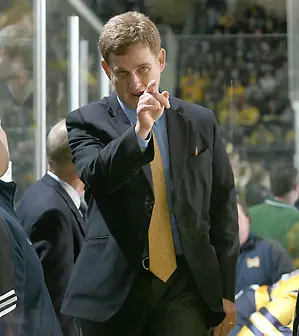 At a press conference Tuesday morning, Pearson was officially introduced as the new head hockey coach, making him the fifth former Huskies player to take the helm since MacInnes stepped down in 1981.
"I was very honored that John offered me a scholarship," Pearson said, describing his initial experience as a player. "I fell in love with Michigan Tech. I knew back then it was the right place for me and that I had made the right decision. I am very grateful at the opportunity to become the next head hockey coach at Tech."
Michigan Tech had been aggressively searching for a new coach since Jamie Russell stepped down after a season in which his squad won just four times, three in the first five games. Athletic director Suzanne Sanregret had Pearson seemingly ready to go just days after his Michigan Wolverines lost a heartbreaker to Minnesota-Duluth for the national championship. However, at the time, Pearson said he felt he wasn't ready for the challenge.
"Emotionally, I just wasn't in a good place then," Pearson said. "We had just lost the national championship, and I was on campus four days later. When I left campus, I was 90 percent sure I would take the job, but as I went through some things, I just wasn't ready to take the job at that time."
Sanregret wouldn't take no for an answer, however. After looking at a few other candidates, she decided to check back with Pearson to see if maybe now was the time.
"I knew the process was going to be challenging," Sanregret said. "I knew that starting at the top and going after some of the biggest names and best coaches out there, there were going to be some nos. We regrouped and went on to the next name, but at the same time, we made sure we kept the door open."
Sanregret said she had great respect for the weight of the decision for Pearson — not just what it meant for him moving forward, but also what he would be leaving behind after 23 seasons with the Wolverines.
"I felt like it was a really good fit," Sanregret said. "I knew that the timetable I'd set was pretty fast. Twenty-three years at Michigan is a long time. I think giving him the time to feel good about the decision either way was the way I approached it."
During his visit to the Michigan Tech campus last month, Pearson had a chance to sit down with some of his returning players. Since taking the job last week, he has met with the rest of the team individually.
"My priority is changing the culture here," Pearson said. "I met with all of the players in the last few days and I'm really looking forward to working with them. I really believe in them and I know we can change things here."
Senior winger Jordan Baker will be one those players on whom Pearson will rely heavily during the transition. Baker said he is looking forward to the challenge of being one of seven seniors for Pearson's squad in the upcoming season.
"It's a huge relief for us that we know who is coming in now," Baker said. "I don't think they could have picked anyone better than Coach Pearson. He's got a great background and is going to bring back a lot of excitement and a lot of tradition back into the program. Everybody is excited."
Pearson knows the challenge ahead will take time. He has already hit the recruiting trail, and will continue to do so as he begins the building process. One of his first tasks after officially taking the reins on May 16 will be to put his staff together.
One man hoping to remain a part of the program is current assistant Damon Whitten, who's had plenty to do despite the void at the top.
"It's been an emotional roller coaster and time-intensive as well," Whitten said. "I've been trying to recruit and stay with our committed players, work with our team and be around for our guys. Looking at the players' reactions, [Pearson's hiring] has been great for the guys. You look at what he's done at Michigan over the last 23 years, I think there's a lot of excitement around our locker room."
As a former player and assistant coach, Pearson also understands how to sell incoming players on the school as well as the sport. When asked what his feelings were on the academic side of Michigan Tech and whether they would prove to help or hinder the program, he was candid.
"I come from the University of Michigan, where the academics are very good also," Pearson said. "You have to sell that. It's a strength. We want the best student-athletes here at Michigan Tech. I consider that an asset."
Spending as much time as he has at Michigan, Pearson had nothing but good things to say about Wolverines coach Red Berenson.
"I've learned many things, but the biggest thing I've learned is to keep challenging yourself, never get comfortable," Pearson said. "In all the years I've been with Coach Berenson, he's had the opportunity to step off the gas a little bit, but he doesn't. He keeps challenging his players, he keeps challenging his assistant coaches to get better, to look for new ways to do things, new ideas and never be satisfied."
Looking ahead, Pearson hasn't set any official goals for the program in terms of numbers of wins per season or how quickly his team will challenge for the WCHA title, but he's ready to start working on the program.
"I know that we have a lot of work ahead of us, but I am ready to roll up my sleeves and get to work," Pearson said. "I don't want to put ceilings on this team. Tech is built on a proud tradition … I'm looking forward to reestablishing that tradition."