When Fred Pletsch signed on as the CCHA's director of communications in 2001, he never gave a thought to the league's top spot.
Ten years later, Pletsch has found himself in a position that almost certainly will be one of the highest-profile jobs in NCAA hockey for the next few seasons. He's not just the league's new commissioner; he's the guy who has to steer the conference through some pretty daunting waters.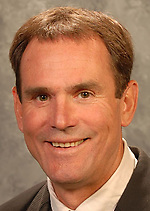 "It's not a job that I aspired to or had any envy about," Pletsch said. "I was perfectly happy doing what I was doing."
Pletsch, a native of Chatham, Ontario, has been the CCHA's associate commissioner since 2008 as well as a staple of FSN Detroit's CCHA coverage for nine years. College hockey fans have also seen Pletsch covering the IIHF World Junior Championship for the NHL Network and occasionally on ESPN.
In fact, Pletsch has had one foot in hockey management and the other in broadcasting for a long time. Pletsch's media career began after he graduated in 1980 from Ryerson University in Toronto, where he captained the varsity hockey team during his senior year. He began in television by calling play-by-play on local cable for the now-defunct Dixie Beehives (OJHL) and eventually called games for the Ottawa Senators.
While his long career in the media has given Pletsch exposure, he's not just another pretty face. In addition to making valuable contacts throughout professional hockey — an asset that factored into his hiring by the CCHA in 2001 — Pletsch has had continuous hockey league experience for the past 13 years. Just before being hired by the CCHA, Pletsch served for three years as commissioner of the North American Hockey League. During his tenure, 150 NAHL alumni opted for NCAA Division I hockey.
Now, after serving one month as interim CCHA commissioner, Pletsch has been tabbed to lead a league in transition.
"People ask me, 'What are your priorities?'" said Pletsch. "It's almost like they're twofold in nature. We have an 11-team league like we have had for the last year, and the league office is like a membership services. We need to serve the league we have. I'm pretty confident that can be accomplished.
"Then there are the changes that are coming."
Those changes, of course, include the departure of three of the league's biggest programs — Michigan, Michigan State and Ohio State — when the Big Ten forms its own conference starting with the 2013-14 season.
As confident as Pletsch is about being able to focus on the immediate future of an 11-team league, he believes the league office is just as capable of helping its remaining schools navigate an uncertain future once its ranks are a bit thinned.
"The other part that's more challenging, obviously, and has some uncertainty to it is what's going to happen when 2013-14 comes around," Pletsch said. "The membership gave me some parameters to seek out information, but there are no deadlines and no one's under the gun."
Pletsch said that Big Ten hockey and what it means to the CCHA — and the rest of Division I men's hockey — were topics much discussed at the recent American Hockey Coaches Association convention in Florida.
"I got a sense that it's not limited to just the CCHA," said Pletsch. "It's nationwide. Everyone is kind of using this as an opportunity to assess the situation and their lot in the college hockey landscape. Everybody's doing it and maybe nothing else will happen and maybe a lot will happen — nobody knows right now."
What bothers people, said Pletsch, is the sense of uncertainty. "It's almost startling the rumors that are out there," he said.
Among the coaches and member schools, said Pletsch, there is some speculation about how a Big Ten conference will affect alliances — but there's not much talk of that and no one is panicking. Certainly closer to home, said Pletsch, the eight non-Big Ten CCHA programs have no intention of looking for other homes.
"I think that the sentiment … was, if we can keep the remaining eight teams, the remaining teams will still be a pretty great league," said Pletsch. "The first order of business would be what it would take, what kind of foundation it would be to keep these teams intact."
Teams may leave the league if they wish, said Pletsch, but there are steps they must take so that no one will be surprised. "There are bylaws that stipulate that if a member wants to withdraw from the league then it must provide fellow members a 12-month notice before the season they want to withdraw from. There were no specific time lines discussed, and I think the reason is because there is time."
There was also nothing further on the potential addition of Alabama-Huntsville. "The focus in the meeting we [the CCHA] had was on the eight members of the CCHA who will remain after 2013-14. The feeling seemed to be, let's address that first."
As the league transitions, so does Pletsch, but the transition feels like a comfortable one.
"Tom's management style was very conducive to my becoming the commissioner," Pletsch said, referencing his predecessor, Tom Anastos, who left to coach Michigan State.
"He's very inclusive and very much does things as a team. I was more than welcome, all the time, at every meeting, and it gave me real insight into the conference."
Perhaps a more difficult transition for Pletsch will be leaving broadcasting — at least for the time being. His new job will leave no time something he's done for 30 years.
"People saw me on television on the weekends," said Pletsch, "but what they didn't see were the nights of preparation that went into that."
Another new role that Pletsch will be taking on is that of parent of a CCHA hockey player. Pletsch's youngest son, Ted, has committed to Bowling Green.