It was a long night of waiting for college hockey fans watching the 2011 NHL Entry Draft. And once the waiting ended, the floodgates didn't exactly open.
Northeastern sophomore-to-be Jamie Oleksiak was the top collegian selected on Friday, going 14th overall to the Dallas Stars. Oleksiak was also the first U.S. player (he holds dual citizenship in the U.S. and Canada) and one of only four players with college ties selected.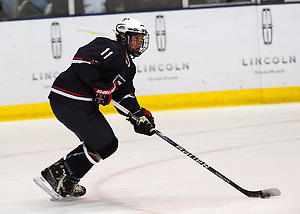 The four first-round selections matches the total from the 2008 draft in Ottawa, the lowest for college hockey in the last decade. That year, though, Boston University's Colin Wilson was able to crack the top 10, selected seventh overall by Nashville.
For those college players selected on Friday, though, none of that mattered.
"It's unbelievable," Oleksiak said on being drafted. "I'm really at a loss for words right now. I think it's a great fit. I've talked with their scouts and their management before and I think it's going to be a great opportunity."
Oleksiak said he's not sure whether he'll return to Northeastern next season but did say that the Stars seem big on developing players and he feels he might be able to use a bit more time to develop in college.
"Development is a big thing for me," Oleksiak said. "We haven't gotten into detail about [a timeline]. They talked to me about [development]. They're big on that."
The 15th selection also had college ties — the New York Rangers picked North Dakota recruit J.T. Miller.
Miller said he's almost definite to head to Grand Forks next season, noting that he needs to fill out a little bit before reaching the NHL.
"I have to get a little bit stronger and faster," Miller said. "I've got to work hard this offseason and next year at North Dakota, and we'll see what happens from there."
That's music to the ears of Sioux coach Dave Hakstol, who made the trip to the Twin Cities to see Miller and fellow North Dakota incoming freshman Rocco Grimaldi.
"He's a hard-nose power forward," Hakstol said about Miller. "We've seen him play since three or four years ago. There is a lot of ability there. That makes him exciting and a special player."
Connor Murphy, who will head to Miami next season, was the third collegian selected, going 20th overall to the Phoenix Coyotes.
Murphy is an interesting selection as he's missed most of the last two seasons with injuries. Still, the Coyotes were ready to take the risk, and that might have something to do with the talented blueliner's bloodlines. Murphy is the son of former NHL standout Gord Murphy.
"I had a good feeling about [Phoenix]," said Murphy, who said he met four times with the team's management before Friday. "It's a great city. It's really hot but at least it's dry heat."
Tyler Biggs, who, like Murphy, is slated to head to Miami in the fall, was the final college player selected Friday. The Toronto Maple Leafs traded two picks to move up to the 22nd overall slot to get Biggs.
As many expected, Ryan Nugent-Hopkins from Red Deer in the Western Hockey League was the first overall selection of the draft by the Edmonton Oilers.
The story of the opening round, though, was the impact of Swedish players. Three of the first six, four of the first 10 and five total selections were Swedish players.
Gabriel Landeskog was picked second by Colorado, while Adam Larsson went fourth to New Jersey. In a bit of a surprise, Mika Zibanejad was chosen sixth by the Ottawa Senators. Jonas Brodin rounded out the quartet of top 10 picks when the host Minnesota Wild selected him 10th overall.
College hockey will look to rebound from Friday's disappointing opening-round showing when the draft resumes on Saturday (10 a.m. CDT, NHL Network). Leading the list of college players who are likely to be selected early are Denver recruit Scott Mayfield, Michigan freshman-to-be John Gibson and current Boston University players Adam Clendening and Matt Nieto.