It has been a bit of a bumpy ride lately for Alabama-Huntsville.
The southernmost program in NCAA Division I men's hockey, the Chargers are still seeking a conference home after the CHA broke up over a year ago. For the second straight season, UAH will be going it alone as the sole independent school in Division I in 2011-12.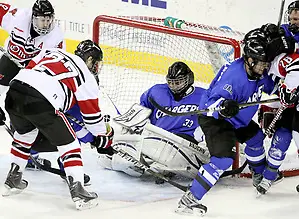 Two summers ago, the Chargers were spurned by the CCHA when they applied for full membership, but now the impending addition of Penn State to the Division I ranks has caused no less than a cataclysmic upheaval of the college hockey landscape.
"The national hockey scene is definitely something we've been following closely in recent months," said Alabama-Huntsville athletic director Dr. E.J. Brophy in a recent email message.
It's not like it was two decades ago, when Division I hockey independents were virtually a de facto league unto themselves, and even had their own automatic berth to the NCAA tournament. UAH was a part of that group as it soldiered on for six seasons from 1986 to 1992 against the likes of Alaska, Alaska-Anchorage, Air Force, Army and Notre Dame, all of whom are now in conferences.
"Our future needs to include a conference home," second-year UAH coach Chris Luongo said.
UAH, which got its start in 1979 as a club program and claimed three national club championships, dropped down to the NCAA Division II level in 1992-93. The Chargers solidified a back-and-forth rivalry with Bemidji State in that time, and also won a pair of Division II national titles before circumstances shifted once again.
The NCAA eliminated the Division II hockey national championship in the late 1990s, which forced the Chargers back up to Division I. After another independent campaign, however, they finally found their first-ever true conference home in College Hockey America. The Chargers went on to celebrate two regular-season and two CHA playoff titles in 11 years, and also garnered two invites to the NCAA tournament, where they lost by a single goal each time to Notre Dame and Miami, respectively.
Slowly but surely, however, the CHA began to unravel. Findlay went first, as it dropped its hockey program in 2004. Wayne State followed suit four years later, after Air Force defected to Atlantic Hockey in 2006. The league was ultimately down to four schools in Niagara, UAH, Bemidji State and Robert Morris before it finally disbanded in 2010. Niagara and Robert Morris joined Atlantic Hockey, while Bemidji State went to the WCHA. UAH was left out in the cold twice, first by the dissolution of its former home, and then when it was rejected by the CCHA.
Fertile area
One thing UAH has had going for it in the past, though, has been consistency. Doug Ross was head coach of the Chargers program for 25 years and won over 450 games before retiring after Alabama-Huntsville was edged by Notre Dame in double overtime in the 2007 NCAA Midwest Regional.
Ross was followed by Danton Cole, who helmed the Chargers for three years and led them to a second NCAA berth in 2010, before he departed for the U.S. National Team Development Program. Cole was then succeeded by former Michigan State teammate Luongo, who served as a Chargers assistant for two seasons before taking the top job last year.
Luongo said that Huntsville has proven to be a hockey haven, with the college program heavily involved in the local grassroots scene. After coaching at Wayne State in his native Detroit for two seasons, Luongo, the father of two boys, had some concerns about what the youth hockey scene would be like. He was more than pleasantly surprised by what he found down south.
"It's really amazing, and it's directly attributable to UAH hockey and its alumni," Luongo said. "You come across guys who played the game growing up, at the NCAA level and even beyond, and they settled in Huntsville and now coach their own sons and daughters. Life at the rink is something to see, and it's not a southern city that's unfamiliar with hockey."
It has also been a time of transition in the athletic administration in Huntsville. Former athletics director Jim Harris died of a heart attack in December, and Brophy assumed the AD mantle in May at UAH, which competes at the NCAA Division II level in all sports except hockey.
Brophy said that the Chargers aren't partial to one Division I hockey league or another at this point.
"[There's] no timetable, but we've had many conversations with many hockey folks," he said. "Independent teams can't be picky."
Scheduling a challenge
Last year's UAH season ended in late February with two home games against the U.S. Under-18 Team, and its 2011-12 schedule is slated to end the same way. The Chargers will also entertain Lake Superior State, Bowling Green, Air Force, Ohio State, Nebraska-Omaha and Mercyhurst at the Von Braun Center in Huntsville this season, one year after hosting Ferris State, Providence, Robert Morris, Rensselaer, Bemidji State and Merrimack.
"It's a pretty impressive list," said Luongo, who played over 200 career NHL games with Detroit, Ottawa, and the New York Islanders. "It's pretty neat to have them come into Huntsville this year."
Luongo also pointed out that this season's overall UAH schedule features no fewer than eight schools that participated in the 2011 NCAA tournament, including road contests at Western Michigan, New Hampshire, Denver, Merrimack, Miami and defending national champion Minnesota-Duluth.
"It's an opportunity, and we need to seize it," Luongo said. "It's not about how many days we're on the road, and we're appreciative of those programs helping us out."
The biggest problem comes when the calendar turns over in January, as most schools are then embroiled in their league schedules and usually have no free weekends to face off with a non-affiliated school like UAH.
"Absolutely," Luongo said. "That's one of the things, and [the schedule's] not done as early as we'd like. It's a little bit of last-minute stuff."
There are also no plans for an on-campus arena anytime soon. Brophy said the 6,800-seat Von Braun Center, which is 36 years old, will continue to serve as the home of Chargers hockey. He couldn't put a price tag on what it is currently costing the UAH athletic department to run the hockey program as an independent, however.
"It's difficult to predict," Brophy said. "Costs are high for us no matter what, league or independent, because of geography."
It's that geography that has proven to be both a blessing and a curse for Alabama-Huntsville. The blessing is the mild winter weather that is almost a given for a southern climate. The curse is trying to get opponents from the Midwest or East Coast or elsewhere to come down to Alabama on a regular basis, despite the charms of "The Rocket City" itself.
"Huntsville is definitely an amazing area," Luongo said. "There's a lot of high-tech industry supporting aerospace, and it's a very dynamic area. The university was born out of that, and it has a very unique character."
That technological atmosphere, coupled with the temperate Alabama winters, are key selling points to recruits, especially since the Chargers do not currently have an NCAA tournament automatic bid carrot to dangle in front of them. UAH has at least 10 recruits headed to Huntsville this season, most of whom hail from Canada.
Athletics under scrutiny
UAH president Malcolm Portera said in an email message that it was inappropriate for him to comment on the Chargers hockey program at the present time.
He explained that the difficult economic conditions that continue to surround higher education had given the university cause to examine its entire athletic program, which it was currently in the process of doing. UAH will be the host institution for the 2012 NCAA Frozen Four in April, but that will take place two states away at the St. Pete Times Forum in Tampa, Fla.
Luongo said the process of playing as an independent started a few years ago and was an act of blind faith taken by the university, while the recent conference upheaval could provide UAH with an opening that didn't exist a year ago.
"This demonstrates the commitment to hockey," he said. "What has developed has been better than we could have imagined, and we're not necessarily on the outside looking in."
The Huntsville campus lies less than two miles from the U.S. Space and Rocket Center, whose centerpiece attraction is the space shuttle mockup Pathfinder. If no one steps forward to offer UAH conference salvation in the next few years, the Chargers could also go the way of the recently-mothballed shuttle fleet, after their own several decades of meritorious achievement.
Then again, maybe not, considering the way the college hockey world has changed so drastically in recent months.
"There's definitely an opportunity there," Luongo said. "We're definitely hopeful, and we certainly hope this will get done and we can move forward with stability."